Verinas Mart is an outpost near the Rock of Ravatogh volcano in Final Fantasy XV. The grounds around it are volcanic and have hot springs. Many who want to climb the Rock of Ravatogh stop by here, but the locals advise them to be careful as the volcano teems with monsters.
There are Niflheim flags about the outpost to signify its recent takeover. The outpost has a restaurant, item shop, a weapon shop, a caravan, a petrol station and a rent-a-bird. The party can meet Sania Yeagre here for a quest.
Locations
Edit
Erupto Eats
Edit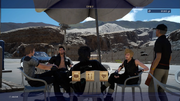 Erupto Eats is located just outside the item shop. Its dishes help with climbing the volcano by offering flame resistance and infinite stamina.
Verinas Mart
Edit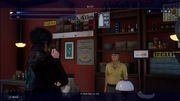 The shop and restaurant are at the same establishment. The player can buy a cookbook for Ignis from here.
Culless Munitions - Ravatogh
Edit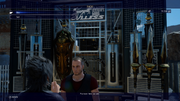 Culless Munitions is a weapons and accessories vendor operating from a black Culless Munitions van at the outpost.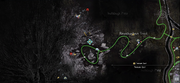 There is a Splendid Building Stone northwest from the outpost in a hot spring.
The Almanac entry for the Rock of Ravatogh is on a small building by a door behind the fence near the gas pumps.
Mineral deposits in this area yield crystal grade minerals.
Photo Op: Volcano
Edit
Prompto will suggest a picture of the volcano when the player drives around the Ravatoghan area in the Regalia.
The Professor's Protégé - Wyvern
Edit
The party can meet Sania here by the hot springs, who asks the party to fell some wyverns inside the Rock of Ravatogh and obtain a wing. The player simply needs to head into the dungeon and climb until they meet a wyvern, kill it, and return for the reward.
The Witch of the Woods
Edit
Completing all of Dave's earlier quests and visiting the Verinas Mart tipster in Chapter 8 notifies the party that Dave has gone missing. The player can find him from outside Malmalam Thicket.

| Name | Location | Rank | Type | Mark | Habitat | Level | Reward | Stars |
| --- | --- | --- | --- | --- | --- | --- | --- | --- |
| Deadly Extermination | Verinas Mart - Ravatogh | 1 | | Soldier Wasp x3, Killer Wasp x3 | Ravatoghan Trail (All Times) | 37 | 6,440 gil, Mega Phoenix | ★★★ |
| Verinas Mart Under Threat | Verinas Mart - Ravatogh | 1 | | Wyvern x7 | Ravatoghan Trail (All Times) | 38 | 7,290 gil, Sapphire Bracelet | ★★★ |
| Red Lightning of Ravatogh | Verinas Mart - Ravatogh | 5 | | Copperoc x3, Thunderoc x3 | Ravatoghan Trail (Daytime) | 44 | 9,140 gil, Mega Phoenix | ★★★ |
| Pointiest Pins in the Volcano | Verinas Mart - Ravatogh | 6 | | Reaperking x3 | Ravatoghan Trail (All Times) | 47 | 12,090 gil, Mega Phoenix | ★★★ |
| Feathered Giant of the Firesmoke | Verinas Mart - Ravatogh | 1 | | Zu x1 | Rock of Ravatogh (All Times) | 67 | 25,300 gil, Champion's Anklet | ★★★★ |
New recipes
Edit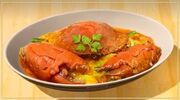 Eating Smoked Dualhorn Shank at the restaurant teaches Smoked Behemoth to Ignis.
Purchasing Iron Shelf Recipes, Vol. 6 at the shop teaches Sweet Saltwater Crustacean Curry.

Community content is available under
CC-BY-SA
unless otherwise noted.