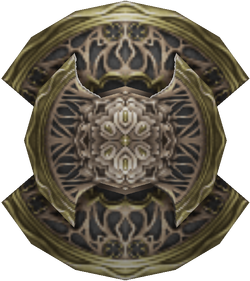 A shield that has been brilliantly colored using special dyes and pigments. It halves damage from the primary elements.
Venetian Shield (ベネチアプレー or ベネチアシールド, Benechia Purēto or Benechia Shīrudo?, lit. Venetia Plate/Shield) is a recurring shield or armor piece in the Final Fantasy series.
Appearances
[
]
The Venetia Shield is a mid- to high-ranked gauntlet that can be equipped by Steiner, Beatrix, and Freya, which provides 17 Evasion, 26 Magic Evasion, and increases Magic Defense by 1 and provides a level up bonus to the wearer's Strength and Magic. It teaches Auto-Float and Counter. It can be bought for 2,800 gil at Esto Gaza, Daguerreo (before entering the Shimmering Island portal) and Ipsen's Castle, and found in Desert Palace's Shadow Chamber by lighting the candles on the left.
The Venetian Shield a shield that provides 24 Evade, 25 Magic Evade, and a weakness to Lightning-elemental attacks. In the original PlayStation 2 version, it is the third strongest shield and requires the Shields 6 license to equip. It can be found as treasure at Cerobi Steppe (Crossfield) or Pharos - Subterra (Umbra - North), bought from the bazaar from the "Brilliant Shield" set, and received from the Hunt Club.
In the Zodiac versions, it is the fourth strongest shield, and requires the Shields 7 license to equip. It can now be found as treasure at Cerobi Steppe (The Northsward) and still be bought from the Bazaar from the "Brilliant Shield" set. It can be equipped by the Red Battlemage, Knight, Foebreaker, and Shikari.
Venetian Shield is a high-ranked shield that provides 50% Physical Evade, 25% Magic Evade, and halves Fire, Ice, and Lightning-elemental damage. It can be stolen during "Disorder in the Order" or received from Rendezvous mode.
Gallery
[
]
Etymology
[
]
Venetian is a noun describing a native or citizen of Venice.