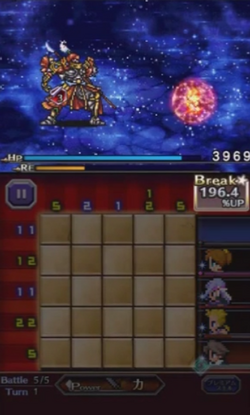 Counterattack after defending, dealing more damage the more you are attacked.

Final Fantasy XIII description
Vendetta (リベンジモード, Ribenji Mōdo?, lit. Revenge Mode) is a recurring ability in the series, later attributed to Snow Villiers.
Appearances
Edit
Vendetta is an ability of the Sentinel role, learned by Snow (Crystarium stage 5), Sazh (stage 7), and Hope (stage 8), and Fang (stage 8). While using Vendetta the damage reduction percentage increases by 10. The user will counterattack after guarding. The more damage the Sentinel takes, the more damage they deal to the enemy in return; each received attack increases the final damage by 10% to a max bonus of 300%. Vendetta costs 1 ATB bar to use.
Vendetta is a Sentinel ability that allows the user to counterattack after defending, dealing more damage the more they are attacked. It has an ATB cost of 1 and a modifier of 1.8. It can be learned by Serah (role level 26), Calautidon (1), Flandit (37), Goblin Chieftain (4), Lancer (7), Major Moblin (13), Metal Gigantuar (6), Navidon (1), Pulsework Gladiator (4), Pulsework Soldier (16), Silver Chocobo (5), Snow (4), Tezcatlipoca (19), and Xolotl (19).
Vendetta is also an enemy ability used by Gilgamesh.
Etymology
Edit
[view · edit · purge]Vendetta is a private feud in which the members of the family of a murdered person seek to avenge the murder by killing the slayer or one of the slayer's relatives, especially such vengeance as once practiced in Corsica and parts of Italy.
Community content is available under
CC-BY-SA
unless otherwise noted.