This region's known as the Veldt. Monsters migrate here from all over the world, so it can be quite dangerous outside of town. You never know what you might run into.
—Mobliz citizen
The Veldt is a region in Final Fantasy VI. It is a seemingly endless plain which attracts monsters. Gau lives here, and learns his various Rages here. The Veldt lies to the south of Baren Falls, the town of Mobliz lies on the eastern coast while Crescent Mountain is near the southern tip of the plains.
Sabin and Cyan wash onto the Veldt and are saved by Gau, who runs away after the two come to. After purchasing some Dried Meat in Mobliz, the party can give it to Gau to have him join them. As his thanks for the food, Gau tells Sabin and Cyan about a "shiny, shiny treasure" he has kept in the Crescent Mountain Cave to the south. The treasure turns out to be a diving helmet, and the three use it to dive into the Serpent Trench to swim to Nikeah.
In the World of Ruin, Gau has returned to the Veldt, and will again join the party. There is a Cave on the Veldt, but other than that, it is just an empty plain.

Enemies on the Veldt
Edit
This makes the Veldt useful for fighting enemies that are found in places the player cannot revisit, especially in the World of Ruin when most of the monsters from the World of Balance vanish. All enemy formations here yield the same amount of gil and Magic Points they normally do, but yield no EXP, making it a good place to train to learn magic if the player wishes to keep their level low.
Encounters with Gau
Edit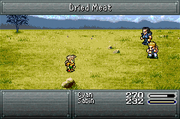 Gau appears on the Veldt whenever he has used the Leap command to leave the party. Gau's stats vary depending on what level he's at along with what piece of equipment he's equipped with before he left. When Gau appears, any commands issued to the party are cancelled.
The first time the player meets Gau in Sabin's scenario, using a Dried Meat on him will begin a cutscene, after which Gau joins the party. All times after this when Gau appears after using Leap, he will rejoin the party after being left alone for a few seconds. Attacking him, even after earning his allegiance, causes him to flee and not rejoin. This will not affect future appearances by Gau, and he will continue to attempt to rejoin the party.
In the World of Ruin, wandering the Veldt in a party of fewer than four people will cause Gau to appear and rejoin the party. He will not appear if the party is full as there must be an empty slot for him to occupy when he rejoins.
Learning Rages on the Veldt
Edit
Gau can only learn new Rages on the Veldt. Once an enemy formation is encountered (it does not have to be defeated), it will show up on the Veldt. Once Gau encounters a monster which the player wants to learn a Rage for, a special command that only appears on the Veldt, Leap, must be used. Gau leaves the battle and the battle ends there. Gau will randomly return at the end of another battle, and he will have learned the Rages of not only the enemy he jumped on, but also those that were defeated in the battle he came back on. Gau will not appear if there are four members in the party, or if the fight was a Back Attack, Pincer Attack, or Side Attack. He will also escape if he is damaged by a party member while he is returning. Gau also can't leap if he's the only member in the party.
Not all enemies appearing on the Veldt have Rages. The enemy Tonberries has a Rage that was dummied out. Its Rage can be obtained and added to Gau's Rage list on the GBA version, but it cannot be selected during battle.
Several enemies that have Rages—Typhon, Siegfried, and Death Warden—do not appear on the Veldt in the game's SNES version. This is corrected for Death Warden in the GBA release; however, even in the updated release, Siegfried and Typhon will never appear on the Veldt, meaning players cannot obtain these two Rages without a cheat device.
When fighting on the Veldt, the monsters the player can encounter are not completely random. They can encounter 1 formation from a group, and then the next encounter, they enter a battle from the next group. When the player first starts a new game, the first group they'll run into a formation from group 1. To determine which formation in the group they can encounter, the game picks a random number from 0 to 7, and that determines which formation they'll encounter.
The player can only run into a formation that they've seen prior, they don't need to have won the battle; such as if they escape from it, they can encounter it on the Veldt. If the game determines that the player should run into a formation they haven't encountered, then they encounter the next formation in the group instead. It does this until it finds a formation that they've encountered. If they're on formation 7 of a group and haven't encountered that formation, it starts over at formation 0 from the group and keeps checking.
Some formations can't be encountered on the Veldt, but these are mostly special and boss formations. These are marked as None in the list. If a formation doesn't contain a monster, it's treated exactly the same as if the player has never encountered it. After the player fight a formation, the next time they fight on the Veldt they'll fight a formation from the next group, or if they're on group 64, then the next fight will be from group 1. If a group is entirely empty and/or they haven't encountered any formation from the group, it skips that group and moves on to the next group. It keeps doing this until it runs into a group which has 1 or more formations that they have encountered. When the player reload a game, it adds 13 to the group number that they'll encounter next.
The two Behemoth King formation found in group 54 and 57. After the player defeats the Behemoth King (Living) inside the Cave on the Veldt. It is advise that the player shouldn't cast Vanish and Banish on it (SNES and PS versions), because the game turns on a flag that causes the Behemoth King (Undead) formation to be loaded whenever an encounter on the Veldt tries to load the Behemoth King (Living) formation. When the player defeats the undead one in the Cave on the Veldt, the game marks the living formation as encounterable on the Veldt. This works because one variable still holds the first formation number, but all the enemies in the current formation have a value <= 255.
So the player can now encounter the Behemoth King (Undead) formation in group 57 on the Veldt, in place of Behemoth King (Living). Once they've fought it, they'll also be able to encounter the Behemoth King (Undead) battle in group 54.
Group 1
Group 2
Group 3
Group 4
Group 5
Group 6
Group 7
Group 8
Group 9
Group 10
Group 11
Group 12
Group 13
Group 14
Group 15
Group 16
Group 17
Group 18
Group 19
Group 20
Group 21
Group 22
Group 23
Group 24
Group 25
Group 26
Group 27
Group 28
Group 29
Group 30
Group 31
Group 32
Group 33
Group 34
Group 35
Group 36
Group 37
Group 38
Group 39
Group 40
Group 41
Group 42
Group 43
Group 44
Group 45
Group 46
Group 47
Group 48
Group 49
0 - None
1 - None
2 - None
3 - None
4 - None
5 - None
6 - None
7 - None
Group 50
Group 51
Group 52
Group 53
Group 54
Group 55
0 - None
1 - None
2 - None
3 - None
4 - None
5 - None
6 - None
7 - None
Group 56
0 - None
1 - None
2 - None
3 - None
4 - None
5 - None
6 - None
7 - None
Group 57
0 - None
1 - None
2 - None
3 - None
4 - Behemoth King (Living)
5 - None
6 - None
7 - None
Group 58
0 - None
1 - None
2 - None
3 - None
4 - None
5 - None
6 - None
7 - None
Group 59
0 - None
1 - None
2 - None
3 - None
4 - None
5 - None
6 - None
7 - None
Group 60
0 - None
1 - None
2 - None
3 - None
4 - None
5 - None
6 - None
7 - None
Group 61
0 - None
1 - Holy Dragon
2 - None
3 - None
4 - None
5 - None
6 - None
7 - None
Group 62
0 - None
1 - None
2 - None
3 - None
4 - None
5 - None
6 - None
7 - None
Group 63
0 - None
1 - None
2 - None
3 - None
4 - None
5 - None
6 - None
7 - None
Group 64
0 - None
1 - None
2 - None
3 - None
4 - None
5 - None
6 - None
7 - None
Musical themes
Edit
"Wild West" from Final Fantasy VI
"Wild West" is used as the background theme for the Veldt, and as a battle theme for all battles that take place inside it.

Other appearances
Edit


This article or section is a stub about a location in Final Fantasy Airborne Brigade. You can help the Final Fantasy Wiki by expanding it.
Etymology
Edit
[view · edit · purge]Veld, also spelled veldt, is a type of wide open rural landscape in Southern Africa. Particularly, it is a flat area covered in grass or low scrub, especially in the countries of South Africa, Lesotho, Swaziland, Zimbabwe, Botswana, and Namibia.