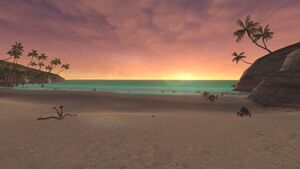 Valkurm Dunes is a location in Final Fantasy XI.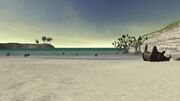 The pugil NM Hippomaritimus can be found on the Siren Sands.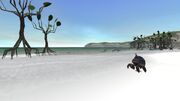 The fly NM Valkurm Emperor can be found north of the Whitebone Sands.

The giant bat NM Golden Bat can be found in the tunnels around the hidden sands.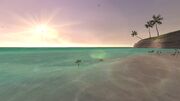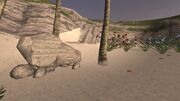 Position: (B-7)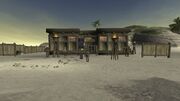 Position: (H-7)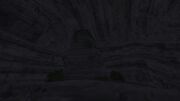 Position: (E-9)
Nestled in a cave on the Whitebone Sands, this stone monument was placed by Gwynham Ironheart, the explorer. It reads:
The view may be beautiful, but the broken grass at our feet is testimony to the inhospitality of this place. The shallows repel anchoring ships, with nothing for miles but sand. Indeed, these dunes are ill-fit for any purpose save sunbathing.
One day I happened upon a young swimmer struggling for air. I swam out to save her, and as a gesture of thanks she led me to a fascinating place.
To a small inlet she guided me, to show me dolphins, no doubt. None were there, but I noticed the bay was a natural harbor. I was a sailor in youth, so I knew this to be an important discovery!
The harbor I named "Selbina." Upon seeing her own name inscribed on my map, the girl clapped her hands in joy.

Gwynham Ironheart, 762 Crystal Era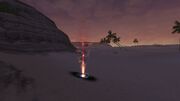 Position: (F-8), (K-7), (K-8)
These mysterious rifts are disturbances in the fabric of time and space. It is from here that extradimensional invaders of unknown origin, collectively known as "Voidwalkers", breach into Vana'diel. To stem the tide of invasion, adventurers may volunteer themselves in Voidwatch operations to dispatch these intruders at the source. The fiend Ig-Alima can be found at the Planar Rifts here.

This gallery is incomplete and requires Selbina
(G-9), Gustav Tunnel
(B-8), Dynamis - Valkurm
(H-7) and Abyssea - Misareaux
(I-9) added. You can help the Final Fantasy Wiki by uploading images.

This section about a location in Final Fantasy XI is empty or needs to be expanded. You can help the Final Fantasy Wiki by expanding it.
Community content is available under
CC-BY-SA
unless otherwise noted.