Valefor (ヴァルファーレ, Varufāre?) is a recurring flying summon in the Final Fantasy series. She first appeared in Final Fantasy X as Yuna's first aeon, and has been associated with her since.
Appearances
[
]
Valefor's fayth, a teenage girl, is located within the temple of Besaid. She is Yuna's first aeon. Her regular attack is a talon claw that lacks piercing, her unique ability is Sonic Wings that deals damage and causes Delay, and she has basic Blk Magic spells by default. She has two Overdrives: Energy Ray and Energy Blast.
Valefor also appears as a boss when summoned by other summoners. Dark Valefor is a boss in the PAL, International and HD releases. Dark Valefor is the only Dark Aeon who cannot break the damage limit with her normal attacks.
If the damage limit is ignored (or has not yet been reached), Valefor's second Overdrive Energy Blast is one of the most powerful attacks in the game. It is the strongest attack that is reliable; all stronger attacks either can be reduced by the enemy's defense (Attack Reels), are only stronger than Energy Blast when landing a critical hit (Nova), or both (Blitz Ace).
Valefor, along with the other Final Fantasy X aeons, is possessed by Shuyin's hatred and appears as a boss in the Besaid Temple during Chapter 3.
Valefor appears at Nautilus's Pompa Sancta parade. In the play, the Cocoon l'Cie transforms into Valefor to face Ragnarok. The text on the cloth draped around its body reads "White–Valefor" in Cocoon script.
Valefor is mentioned during the Mor Dhona sidequest "Short Arms of Law". Once the Warrior of Light defeats Gagarua's gang to protect the Doman kids, the Lalafell leader pretends to summon the primal Valefor, distracting the Warrior of Light to make their escape. An enemy known as Valefor appears in the Labyrinth of the Ancients, but this is a voidsent dahak rather than the recurring summon. Given this and Gagarua's ruse, it is unknown if a primal Valefor actually exists.
Valefor is also the name of a server in Final Fantasy XIV.
Valefor appeared as a boss in Final Fantasy Tactics S.

Valefor can be summoned by Yuna to fight in her stead. Her Bravery attacks are Energy Blast and Sonic Wing, and her HP Attack is Energy Ray.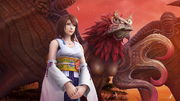 Valefor returns as Yuna's summon and is the only one of her aeons to physically manifest. She functions as Yuna's EX skill. Yuna stacks up to 5 charges of her EX skill and uses it to call Valefor to perform different abilities depending on cost, input and Yuna's current state: a single charge for Sonic Wings, two for Energy Ray and Energy Blast, and three for Ascend and Energy Nova, with Energy Nova also being an HP Attack.

Valefor appears as support for Yuna when she invokes the EX ability Grand Summon. Active for up to six turns, the aeon changes and magnifies Yuna's basic attacks to act in her stead, also providing Yuna with a counterattack when attacked. If Valefor is active when Yuna fills her EX gauge a second time, then Grand Summon becomes Energy Blast.
She is also called, albeit briefly, when Yuna uses her LD Ability, Energy Nova.
Ability Cards
Legend Cards
Valefor is the sole aeon Yuna can summon. She performs Energy Ray.
Valefor is called during Yuna's "Grand Summon I" default Soul Break, dealing 110% non-elemental magic damage at the cost of one Soul Gauge segment. At ~600 damage at level 70, the Soul Break is poor. Isaaru's Pterya appears as a boss in the Record of Via Purifico Maze. In addition, Valefor exists separately as a 4-Star Summoning ability that can be called by other characters, dealing non-elemental damage. While many summon Soul Breaks use summon moves the same as that of the Ability summon, Valefor's animation is different. While Yuna's "Grand Summon I" uses Energy Blast, the Summoning Ability uses Energy Ray and hits twice.
Dark Valefor also appears as a 6-Star Summoning ability. Her Ability Record must be acquired from the Royal Crucible for 180 Record Rubies, allowing the Ability to be made. It deals four Wind Summoning hits to all enemies.
Additionally, Valefor is also the 6-Star Wind Magicite fight in the Japanese version, and grants her Magicite upon defeat. She deals a fixed 99999 damage, Imperils the enemy for 20% additional Wind damage and boosts the party's Wind damage by 20%.
Valefor appears as part of Yuna's Energy Ray.
Valefor appears as a part of Yuna's limit burst, as well as during the execution of the ability "Sonic Wings".
A spirit-beast forever loyal to those who summon it.

Ability Card Description
Valefor is a water-element ability card whose ability is Icedance, a ranger ability that allows an area water attack. It produces six water orbs and possesses the extra skills Breaker-Killer, Critical Retrieval and Critical Sundering. Its auto-ability is Magic Up+3%. It can be obtained from the Ability Card Shop or through Summoning.

Valefor appears in Final Fantasy Trading Card Game as Wind-elemental summon cards.
Valefor appears on a Triple Triad card in the version available via Final Fantasy Portal App.
Non-Final Fantasy guest appearances

[

]
The soul of an island's fayth made flesh by summoner's call, this Aeon soars to aid the one who invoked it.

Description
Valefor appeared in Guardian Cross as part of a limited promotional event alongside three other aeons for the release of the Final Fantasy X HD Remaster.

In Kingdom Hearts Final Mix and 1.5 HD ReMix, a special Gummi Ship blueprint called Valefor can be obtained by completing the Wonderland gummi ship Mission 3.
Monster Strike

[

]
Yuna is depicted summoning Valefor.

Other media
[
]
The airship Valfarre in Final Fantasy XII is named after the summon Valefor. One of names available for monsters in Final Fantasy XIII-2 is Valefor.
Merchandise
[
]
An action figure of the Final Fantasy X Valefor exists as part of the Final Fantasy Creatures Kai Vol 1 series.

Etymology
[
]
[view · edit · purge]In demonology, Valefar is a Duke of Hell. He tempts people to steal and is in charge of a good relationship among thieves, but later he brings them to the gallows.
See also
[
]