Script error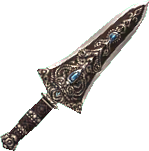 I drew this sword and heard chanting; a prayer in a tongue I do not care to hear again.

Final Fantasy Tactics A2: Grimoire of the Rift description
Vajra (ヴァジュラ, Vajura?) is a recurring weapon in the series.
Appearances
Edit
Vajra is a dagger that provides 31 damage and 200 delay. It enhances the effects of Sneak Attack and Trick Attack. It occasionally attacks twice and its aftermath increases accuracy and attack. It deals 9.3 damage per second and accumulates 54 TP per hit. When equipped the the Thief can use the Mandalic Stab Weapon Skill. It can be equipped by level 75 Thief. It can be obtained from the Mythic Weapons quest and the special Nomad Mog Bonanza 2010 (Rank 1) event.
Vajras are a pair of weapons for Ninjas. They are a possible reward from the quest
The Reason Roaille. They can otherwise be acquired as Weathered Vajras in Revenant's Toll, and then upgraded to Vajras in Hyrstmill, by trading in Allagan Tomestones and tokens acquired from Syrcus Tower and the Second Coil of Bahamut.
Name
Type
iLv
Description
Equip
Patch
Materials
Crafting
Weathered Vajras
Rogue's Arm
100

Auto Attack: 41.81
Damage: 49
Delay: 2.56
Magic Damage: 36
Dexterity: 37
Vitality: 42
Direct Hit Rate: 40
Determination: 20

ROG NIN 50
2.4
Vajras
Rogue's Arm
110

Auto Attack: 43.52
Damage: 51
Delay: 2.56
Magic Damage: 38
Dexterity: 42
Vitality: 49
Direct Hit Rate: 44
Determination: 22

ROG NIN 50
2.4
Sword once wielded by the god of another land.

Description
Vajra is a low to mid-ranked broadsword that provides 45 Attack, 5 Defense, 5 Magic Resistance, is Lightning-elemental, and enhances Lightning-elemental attacks that the user uses. It teaches Meltdown to Defenders for 200 AP.
Vajra is the third strongest broadsword, providing 45 Attack, 5 Defense, 5 Resistance, is Lightning-elemental, and nullifies Lightning-elemental damage to the user. It teaches Meltdown to Defenders for 350 AP and Bulwark to Raptors for 300 AP, and can be obtained from the Bazaar from the "Thunder's Cry C" set.
Vajra is a staff that provides 40 P.ATK, 90 Aim, and deals 50% more damage to undead. It can be found in Via Celestio.
Non-Final Fantasy appearancesEdit
Seiken Densetsu 3Edit
The Kongou Rakan (lit. Vajra Arhat) is the ultimate dagger weapon for Hawkeye should he undertake the Dark Light path of the Ninja Class, the Ninja Master. Its appearance is that of a gold crystalline like flange tipped prong split tanto blade. It is considered the strongest of the codenamed knife weapons of the Ninja of Nevarl, and is hence reserved only for its ranks' greatest members and masters of the ways of ninjutsu.
Vajra is a greatsword that can be equipped by Ibuki.
Etymology
Edit
[view · edit · purge]Vajra (वज्र, vájra) is a Sanskrit word meaning both thunderbolt and diamond, known as the weapon of the Hindi god Indra. As a material device, the vajra is a ritual object, a short metal weapon—originally a kind of fist-iron like Japanese yawara—that has the symbolic nature of a diamond (it can cut any substance but not be cut itself) and that of the thunderbolt (irresistible force).
Community content is available under
CC-BY-SA
unless otherwise noted.