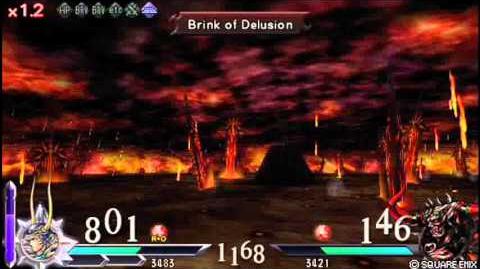 Utter Chaos (究極の混沌, Kyūkyoku no Konton?) is a recurring ability in the series. It is the Limit Break for Chaos.
Appearances
Edit
Utter Chaos is the ultimate ability of Chaos, which is only used during the third phase. Chaos leaps into the magma around the arena and grows to massive size. He takes hold of a massive sword, then swings it down onto the arena.
Chaos then attacks three more times using any of the following moves:
Leap up and stab the sword into the ground, sending a plume of flame at the player.
Draw back sword and swing across the arena, leaving explosions.
Pull back sword and thrust across the arena, sending walls of fire along the ground.
Utter Chaos leads into the final attack, Brink of Delusion. The attack consists of Chaos summoning three additional swords before throwing all four at the arena. Four spots within the arena will glow before the entire arena is consumed in flames, returning Chaos to normal form on his throne. If a player remains within these four spots, they will take damage and fall after Chaos returns to normal.
Utter Chaos is an exclusive reactive ability that costs 18 CP to equip. It is activated in Battle Music Sequences (BMS) when a boss-class enemy appears. It deals damage in direct proportion to Strength and Magic. It is learned by Chaos (level 40).
Community content is available under
CC-BY-SA
unless otherwise noted.