"I have awaited this - the day you would come..."
Welcome to the Final Fantasy Wiki, Zolo6!
Welcome to the Final Fantasy Wiki, and thank you for your contributions! There are many ways to help the wiki, and all help will be greatly appreciated. First off, if this is your first time editing a wiki, you may wish to browse though these links as a guide to get started around here:

Read this FAQ, and check out the help portal to learn the basics of editing and adding basic code (images, tables, etc.).
Feel free to create and personalize your userpage, to tell everyone who you are.
Before you upload files to the wiki, please check images already uploaded to the wiki to prevent duplicates. Also, read the policy on uploaded media, Forum:Copyright Q & A, and Forum:Images policy.
Experimenting and test editing can be done at our very own sandbox.
This community participates in an advisor program to guide newcomers through any basic questions they have and issues they encounter. Advisors are here to help you! To select an advisor or for more information, click this card.

 

When you're ready to start editing, there are plenty of ways you can help the wiki, and several can be found on our wiki projects and Community portal. You may want to browse the policies and guidelines (though you are not expected to know each in detail before you start editing). If you have any questions regarding the wiki, visit our forums, discussions, Discord server, or ask one of our staff members.

We hope you will enjoy your stay here and help improve the Wiki -- all your help will be greatly appreciated!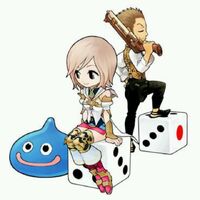 Archive

Hello welcome to my talk page leave a message!


Okay archive?

I'll ask again is it hacked or not?

1: If it isn't tough cookies, because you have a lot of work ahead of you.

2: If it is do what I told you to do ask my younger brother or see if Lindaru can help he's good at this stuff also, well I think is.

Hello. From some of your talkbubbles, I think you must be a fan of Tales of Symphonia.

Darkzero432

 - power is nothing... the mission is absolute

TALK

- feb 19,2010

I love tales of Symphonia too. Anyway, I think you have to get playstation network to play PS1 games. I don't really know though. I don't have either.
Galleries are for pages with multiple images, not for pages that look sloppy to Zolo6. Format it in a better way if you want, like you did with Memento Mori, but a template shouldn't be misused, especially if it creates a giant white space on the page. Also, every blue magic page for FFXI is formatted like that if they have an image.--Blue Donkey Kong 04:35, January 16, 2011 (UTC)
Thanks for updating the job pages. Myself and Bluer made the articles before the game came out, and since then, nobody really paid much attention to it. Thanks again. --ShirubaKurono 

00:19, March 21, 2011 (UTC)
Amazing job making those 4 Heroes of the Light location pages. They're very good.Keltainentoukokuu 01:43, April 15, 2011 (UTC)

Going to also chime in and say much thanks for the major updates to this game. I'll be getting to it myself eventually, so we'll be having more images (and maybe info...I don't know about all that though so...) to add to this, but keep up the good work! Wondering how you're getting the images...from the system itself or an emu?
Thank you for cleaning after me.
[
edit source
]
I know I'm a horrible editor and everything, and I owe you alot for cleaning up my mistakes, and especially placing the images. Sorry for leaving you with the terrible mess. Razordash 22:08, May 18, 2011 (UTC)
Are they actually called Ice Caverns, with the S, or just Ice Cavern? If just Ice Cavern, You should probably move it to Ice Cavern (The 4 Heroes of Light). Just figured I'd ask. Jimcloud 04:52, May 19, 2011 (UTC)
Good to see you're still contributing on this game. I just recently started playing it myself. I really like it even if it's such a Dragon Quest ripoff. Any game would improve greatly if it let you wear silly hats, I say. :D And the backgrounds look really nice, although battles are a little bland maybe. Keltainentoukokuu 14:22, July 20, 2011 (UTC)
International version of FFX
[
edit source
]
I am fairly sure the dialogue and menus of the Japanese release FFX International were in English. 79.69.203.251 21:29, September 10, 2011 (UTC)
Nice work in your sandbox. An enemy template! I didn't even know half those stats existed... I just completed 4 Heroes the other day, finally, god am I slow or what. You gonna add a bestiary?Keltainentoukokuu 02:04, September 23, 2011 (UTC)
Hello there. I see that you are adding a lot of information to the 4 Heroes of Light articles, and I was wondering about your opinion on the game. Like, is it a good game? or an RPG you would recommend to someone. SidVI

07:05, October 5, 2011 (UTC)
Dark Bahamut's Article
[
edit source
]
Maybe my edit about "Soloing Dark Bahamut without Break HP Limit" was unnecesary. But it was my first edit in this wiki, because i'm a new user. The fact that i used in the article fuzzymillipede's (a Youtube User, as you said in Summary) Easiest Strategy, it was only for a reference to the players. If you have seen Dark Bahamut's article before my edit, maybe you remember that other users put this link in its edits too, in fact, i knew about Easiest Strategy in this wiki, looking at Dark Bahamut info --Maururu255 20:10, November 8, 2011 (UTC).
Thanks! ▫ Sir ISStalk 19:32, December 2, 2011 (UTC)
Are you still on this wiki?
[
edit source
]
If so are you finishing the Crisis Core walkthrough?C A T U S E04:44, December 27, 2011 (UTC)
Hi Zolo6,
Congratulations! As a valued member of the Wikia community, we are pleased to offer you an exclusive opportunity to attend a live event in celebration of Final Fantasy XV. This event is open to the public, but Square Enix has arranged for fans like yourself to get guaranteed access. Here are the details:
What: Final Fantasy XV Uncovered Where: Shrine Hollywood When: March 30, 7pm
If you are interested, please reply with your full name and email address, and we will send a confirmation once you are on the list. Spaces are limited, so please make sure you respond as soon as possible.

Here is the facebook link to the event; https://www.facebook.com/FinalFantasy/photos/a.597630026938427.1073741826.362460097122089/1150676994967058/?type=3&theater
Let me know if you have any questions,
Community content is available under
CC-BY-SA
unless otherwise noted.