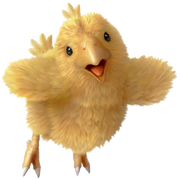 Welcome to my Talk Page, (name)!
Feel free to leave me any Final Fantasy/FFWiki related message (or about anything else that we might have in common) ~
---
I know you didn't edit yet, but I saw that account creation log and thought I should welcome you. So, if you need any help feel free to contact me or anyone else.Tetraninja321 14:01, April 15, 2013 (UTC)
The welcome wasn't automatic, as we prefer to welcome new users manually. I don't think your message ruined my page layout(It's fine until messages become unreadable).Tetraninja321 06:51, April 16, 2013 (UTC)
---
Thanks for the etymology edits! Tia-Lewise

00:09, April 19, 2013 (UTC)
Every contribution is welcome and valued :) keep up the good work! Tia-Lewise 00:22, April 19, 2013 (UTC)
... I just realised my comment may sound sarcastic. I assure you, I'm being sincere :) - Tidus357 00:34, April 19, 2013 (UTC)

Bah, if you'll look through my archives I don't care about talk bubbles, it's not a rule I enforce :P I could always make you one, if you like. Ah, I miss helping new people >_>;;
A fellow Crash Bandicoot fan? Good. Catuse is also a fan :3
I'm very rarely mean. Especially to new people. So I wouldn't worry about it :P If you want a talk bubble, you can either make one using Template:Talk, or just give me a picture and some colours and I'll make it for you. - Tidus357 02:40, April 19, 2013 (UTC)
---
1.I don't think there are any rules to that other than what you mentioned. 2.It doesn't have to be related to FF. 3.You can.Tetraninja321 15:08, April 25, 2013 (UTC)
Hey there Sayuri. And speaking of, when you vote in the DNC you really should use a signature with your actual username in it, it's a requirement that I'm not sure is in the rules, but across this wiki also, you should use a signature that clearly displays your username or at least is similar to your username- for example Drake Clawfang sometimes uses Doreiku Kuroofangu, and Yuna467 uses Yunie X. You could always go with something like Silent Voice (Sayuri); just make sure there's a timestamp in there too ^_^ let me know if you need any help with that, I can show you the page that contains my username coding. Tia-Lewise

14:14, May 12, 2013 (UTC)
What's wrong with Kingdom Hearts? D:
Just asking, curious :P -

Tidus357 01:39, May 13, 2013 (UTC)
Oh, as a franchise. No, really, I totally agree with you there. Spin-offs and sequels... Square Enix ruins everything it touches, except for Sleeping Dogs and Nier. You'd know my opinions on how Square Enix kills both FF and KH if you saw me on KHAnswers, but yeah. I tend to just pretend only KH I & II exist. Good enough for me. I found them enjoyable enough, but just reading about the other games makes me wince at the stupidity >_> - Tidus357 10:57, May 13, 2013 (UTC)
Hello, I noticed you were adding location names to FFIX area pages. You may be interested in this: User:JBed/FFIX/Locations. It is an (incomplete) list of all locations and their names in the menu. Currently only disk 1 is complete, however this may help more easily put names to places (especially the ones that you can't access the menu in!). JBed (talk) 23:58, May 28, 2013 (UTC)
Community content is available under
CC-BY-SA
unless otherwise noted.