Archives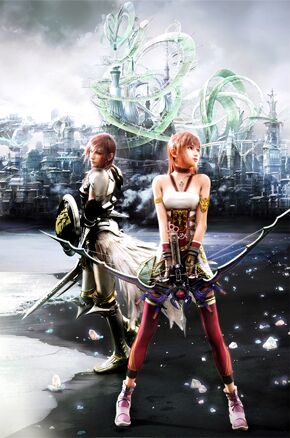 Please only use test templates when there is a clear act of vandalism or spam. While the anon was wrong in mentioning the voice actor's previous games, it was done in good faith and therefore doesn't warrant a test template. Jeppo (Talk | contribs) 23:24, August 26, 2011 (UTC)
This pic is really good. :o Image of the week ahoy! ;) Thanks for uploading it.Keltainentoukokuu 16:11, August 29, 2011 (UTC)
Can I has link? - YES!
[
edit source
]
Yay! Thank you! :D Here it is: http://www.4gamer.net/games/131/G013186/20110831065/ Some are already on the Wiki, but there's quite a few that aren't, and I don't know who the characters are. Thanks again! ~ TheMoonclaw 05:03, September 3, 2011 (UTC)

High five! We got the cards up! :) Nice job. ~ TheMoonclaw 02:00, September 4, 2011 (UTC)
Nicely done! ;) ~ TheMoonclaw 03:31, September 6, 2011 (UTC)
Ola Koharu Nomi!!, i read something about a Lightning fanclub?, can i join? Legend

Aqua --VOTE IN THE LIGHTNING COLOSSEUM! 04:18, September 5, 2011 (UTC)
OK I got the Userbox and Certificate down. How do you like this: Should we change the Lightning pic?SquallRocks

03:19, September 6, 2011 (UTC)
Personally, I would like to change the Lightning pic though, for this one. Any suggestions. SquallRocks

03:28, September 6, 2011 (UTC)
Um..personally I think having two of the same pics on the certificate is kinda weird...the userbox is cool, thought Clarent Caliburn 

06:01, September 6, 2011 (UTC)
Hmmm how switching one of Lightning with a Lightning's attire from XIII-2? for the certificate, other than that as Clarent said the userbox is good.. Legend

Aqua --VOTE IN THE LIGHTNING COLOSSEUM! 06:26, September 6, 2011 (UTC)
"It flashes bright, then fades away...It can't protect, it only destroys."
This certificate validates that this user is proud to be a of the Lightning Fan Club, which means that this user is completely badass, just like Lightning herself!
Also, this user is fond of punching people in the face, especially if their name has something to do with Snow.
This? Also, I can make multiple certificates that come up in random, much like Clarent's sig. SquallRocks

02:21, September 7, 2011 (UTC)
Hmmmmm..looks GREAT!! and if the multi things happens yeah!..... but what do u think Clarent and Koharu??? Legend

Aqua --VOTE IN THE LIGHTNING COLOSSEUM! 02:24, September 7, 2011 (UTC)
Thanks...ok this is getting kinda out of hand, Koharu is being bombarded with messages. xD (so why don't we continue this discussion in my talk page...I have a feeling that I will be experimenting A LOT with these templates.) I have a random quote template, I'll put it in my talk page. SquallRocks

03:03, September 7, 2011 (UTC)
Hmm seems like we need a page for it...whose is it gonna be?  Clarent Caliburn 

08:10, September 10, 2011 (UTC)
Since you are the co-founder of the club (which has not started yet, I'm hoping this weekend), I have a favor to ask you. Can you add some Lightning quotes to the Template:LFC/Quote? Plus, we have to move it from the main space templates once we open the club. -__-' My bad. And one more thing, can you think of the club page? Like, how we are going to open it, what pictures to use, how we are going to make it interesting. Any ideas? SquallRocks

01:09, September 8, 2011 (UTC)
Awesomeness dominates it! My feelings are verrrry similar to yours however, I like the random battles and the multiple endings. Guess that's because I never played one before....anyway, I have much fun when reading your stuff..e.g the walkthrough. We have similar opinions on lots of things...Nice.  Clarent Caliburn 

08:05, September 10, 2011 (UTC)
Hiya, Guess we do have lots of things in common..I'm a huuuuuuuuuuuge(x10) fan of fate. So, yeah. this is for you also  Clarent Caliburn 

07:29, September 11, 2011 (UTC)
Phil Rein Tao 05:04, January 4, 2012 (UTC) Hello I do not know if I am doing this right. I hope I am. I am using your FFXIII walk through and on your Mission: Repair Bhakti you left out a part for fixing him. Its the Asperic Lens located inside the school house. Please do not scold me if I did not do this right. It is my first time doing this:)
Can you get on right now? We need to talk about LFC. SquallRocks

00:18, September 18, 2011 (UTC)
OK:
We got new members! <3
http://andriasang.com/comya1/ have you read this??? o__0 SquallRocks 22:01, September 21, 2011 (UTC)
Hey! Do you know what today is? Hint: has the letters LFC and IRC at 3 (or now)? SquallRocks

19:15, September 24, 2011 (UTC)
I to the R to the C? SquallRocks

01:02, September 26, 2011 (UTC)
Lightning Screenshots
[
edit source
]
Hello Koharu. I've been advised to contact you about this. The thing is, I've got a collection of ~650 screenshots throughout FFXIII I've spent some fun time putting together. And, in a manner of speaking, my conscience needs to be relieved by forwarding them somewhere beyond my personal archives. So far I've posted them on Lifestream forums [[1]], but that's about it. A lot of places which are supposed to be suitable are pretty long dead by now, and I wonder if there are any other places where such thing might be wanted at this point. SquallRocks said you might know something. :3 --Somewise 05:50, September 30, 2011 (UTC)
<test removed> .:. 11:27, October 22, 2011 (UTC)
Hey there, I was wondering where I might post a petition to get the text color of the FFXIIIa CSS class changed from white to black. According to web accessibility standards recommended by the W3C, black text would have a better contrast ratio, so I think it would be legitimate to petition for such a change. Thanks in advance :). —ProtonZero [talk] 02:10, October 29, 2011 (UTC)
Thanks for the certificate :) Tia-Lewise

13:49, November 18, 2011 (UTC)
You said that Caius is going to be in Jump this week? Man you got like, psychic powers! http://finalfantasyxiii2.wordpress.com/2011/11/25/final-fantasy-xiii-2-caius-render-released-in-jump/ SquallRocks

15:47, November 25, 2011 (UTC)
Using your guide to get through FFXIII - cheers for this! Very helpful. Many thanks from England, H
Community content is available under
CC-BY-SA
unless otherwise noted.