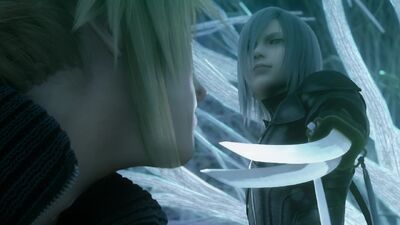 ---
---
"I have awaited this - the day you would come..."
Welcome to the Final Fantasy Wiki, BlueLionheart!
Welcome to the Final Fantasy Wiki, and thank you for your contributions! There are many ways to help the wiki, and all help will be greatly appreciated. First off, if this is your first time editing a wiki, you may wish to browse though these links as a guide to get started around here:

Read this FAQ, and check out the help portal to learn the basics of editing and adding basic code (images, tables, etc.).
Feel free to create and personalize your userpage, to tell everyone who you are.
Before you upload files to the wiki, please check images already uploaded to the wiki to prevent duplicates. Also, read the policy on uploaded media, Forum:Copyright Q & A, and Forum:Images policy.
Experimenting and test editing can be done at our very own sandbox.
This community participates in an advisor program to guide newcomers through any basic questions they have and issues they encounter. Advisors are here to help you! To select an advisor or for more information, click this card.

 

When you're ready to start editing, there are plenty of ways you can help the wiki, and several can be found on our wiki projects and Community portal. You may want to browse the policies and guidelines (though you are not expected to know each in detail before you start editing). If you have any questions regarding the wiki, visit our forums, discussions, Discord server, or ask one of our staff members.

We hope you will enjoy your stay here and help improve the Wiki -- all your help will be greatly appreciated!
Q? --BlueHighwind 22:11, 27 July 2008 (UTC)
And you're NeoBahamut!!!
[
edit source
]
Hi, I'm BlueLionheart. Thanks for the offer of help, and I could use it. Do you think you could fix the quote on my userpage to, you know, make it look more like a quote??? If you could, I would be eternally grateful. BlueLionheart 23:32, 27 July 2008 (UTC)BlueLionheart
You Warmed My Heart With Your Praise
[
edit source
]
Arc? 2127 02:26, 28 July 2008 (UTC)
(Ignore the "enters" as I call it since that is the word on the key on the key-board)
| Template
|-
| Template
| Template
|-
| Template
|}
Hello, Lionheart-san.
[
edit source
]
Could you go back again, Sorry, earlier I was eating, now my mom just closed the window, could you please go back? if you can thanks.--NeoBahamut 19:12, 17 August 2008 (UTC)
Your persistence of mentioning this "flame war", which was merely a heated debate (I tend to find flame war usually implies the insulting of each other) is extraordinary. I have mentioned it yet no times. This maybe because I'm not a community man and don't want a chat. It also could be because I don't find it interesting, and it's normal to me.
Though lack of work needed at the moment for me to do, and slow recent changes leads me to click these talkpages of people I couldn't care less about. Good day to you sir. And good day BLh.  ILHI 19:32, 17 August 2008 (UTC)
@JZ: Oh. Well only half of that applies. It wasn't that eventful really, though I agree that nothing has happened. I've been waiting ages for AJD to start continuing his FFIV moves, and fixing of templates. I have nothing to do, except create articles by stealing info from the internets.  ILHI 19:50, 17 August 2008 (UTC)
JZ, I started doing it because there were loads of links to fix. It was easier than trying to figure the best way to present the four different FFIV versions, and the two encounters of Golbez into one table. I started editing from the bottom so you could continue from the top.  ILHI 20:43, 17 August 2008 (UTC)
No clue, sorry. User images would be the appropriate category, but I'm not sure about the copyright stuff. Drake Clawfang
Hello? You still among the living?
[
edit source
]
Happy Birthday, Mom!!!
[
edit source
]
Heh.
Once a troll not always a troll. And troll's a stupid title.
That's not actually a reason.
Neither has a lot of the community here. Me not included because I edit, I keep away from talk pages unless it is wiki serious business.
Is this in-wiki, out-wiki or both? Either = ditto.
... What Leon once said. "Your life is the most important thing in your life".
So they have.

Have fun.  ILHI 17:50, 5 September 2008 (UTC)
I'm pretty glad I'm not you. All this talk to hating yourself and not wanting to live is pathetic. And if you do kill yourself, all you'll do is prove your weakness. Suck it up and move on.
And, to BlueLionheart, you got to Archive this page. Templates aren't working it's so big. --BlueHighwind 18:01, 5 September 2008 (UTC)
Let me have a shot:
No, the problem is that you get over excited. Calm down on the IRC, and don't start shouting at people
I've contributed jack shit in my time here.
If you believe so. Perhaps you should, I don't know, contribute then?
I can pretty much count the people that care about me here on two hands.
Define care. And you are blowing that out of proportion, I'm sure.
No one wants to die. Anyone who says this is just seeking attention. There is a scientific term for this, it's call puberty.
Things have happened in real life.
Real like if important.
Also, yes, talk templates no longer work on this page. Diablocon 18:13, 5 September 2008 (UTC)
Care=Those who give a fuck about me. CLEAR ENOUGH? Oh yeah, and I was talking to BlueLionheart. You need to respect other people's feelings, idiot. JudgeZarbi 18:24, 5 September 2008 (UTC)
Hello good attention-seeking sir. Acting like that can do nothing but make us feel like you are an indeed, the idiot. I Lion Heart I 18:40, 5 September 2008 (UTC)
I'm sorry. It's for the best. If you still want to talk to me, you can email me/MSN me: roxas.dan.sora@hotmail.co.uk JudgeZarbi 20:21, 5 September 2008 (UTC)
Community content is available under
CC-BY-SA
unless otherwise noted.