And even though it all went wrong
I'll stand here before the Lord of Song
With nothing on my tongue but Hallelujah

Hallelujah, Leonard Cohen
Hullo, and welcome to my user page. I am one of the bureaucrats of this wiki, so feel free to drop me a line on my talk page if you'd like to discuss policy, request maintenance or have any questions about the wiki.
Pages of note
[
]
Stamps
[
]
I made these things. They are silly.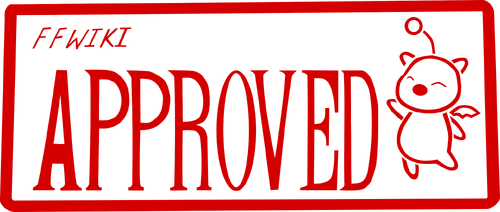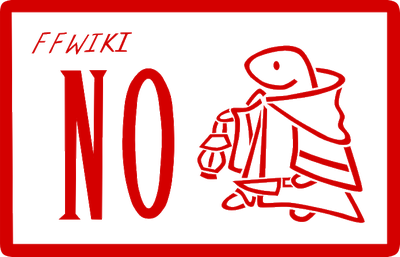 A few things I've done
[
]
Suggested walkthrough space on the wiki.
Got rid of all the links to disambiguations (with help from ILHI, Yumino, Diablocon and Adam mcduck).
On the 9th of August, 2008, I made my 10 000th edit. It was the creation of the Sasuke's Blade page. On the 7th of September, 2008, I made my 10 000th mainspace edit. It was reformatting the Relic (Final Fantasy VI) page
Made a moderator on the 17th of June, 2008, an admin on the 16th of January, 2010 and a bureaucrat on the 30th of July, 2013. I am currently a Founder on the wiki's IRC channel, #Wikia-FF.
Creator of a number of guides and sticky threads, in particular Forum:Navigation Popups Q & A and Forum:Copyright Q & A.
Possibly the first person to have a "template" style user page (ILHI may have beat me to it). My old userpage may be seen here.
Marty Stu Leeroy was originally my idea. Yes, I created that (fabulous) monster.
10 things you should remember...
[
]
Assume good faith! We're all just trying to help the wiki
There's always work to be done on the wiki.
There is no deadline, and no limitation to space.
The Staff are just users with mops and brooms. Their opinions are not worth more or less than yours.
Keep it civil, even if you disagree with someone.
We look for a consensus, not votes.
Nothing on the wiki is forever. Consensus changes all the time.
Be bold! Go ahead and edit.
Don't bite the newbies. Everyone was new once.
Other than FF...
[
]
I am inordinately fond of:
Arts: (Overall) the Romantic era, the Modernist era, (Visual art) High Renaissance, Post-Impressionism, the Dutch Golden Age
Books: Hopscotch by Julio Cortázar, The Silmarillion by J. R. R. Tolkien, If on a winter's night a traveller by Italo Calvino, Nineteen Eighty-four by George Orwell, House of Leaves by Mark Z. Danielewski, I, Claudius by Robert Graves, Foucault's Pendulum by Umberto Eco. I love reading.
Drink: Tea
Language: Latin
Plays: Hamlet, Rosencrantz and Guildenstern are Dead, Twelfth Night, The Importance of Being Earnest
Poets: Edgar Allan Poe, T.S. Eliot, Algernon Charles Swinburne
Music: classical (Baroque, Classical, Romantic); composers: Mozart, Beethoven, Tchaikovsky; assorted: The Beatles, Peter Gabriel, U2, Teresa Teng, Miriam Stockley
Television programmes: The Blue Planet, Doctor Who, I, Claudius, Sherlock, QI, Blackadder
Games: Disgaea, Katamari, Phoenix Wright, Zelda, Touhou, Magic: the Gathering
...and mathematics, science (particularly chemistry and physics), philosophy and linguistics.
Current Projects
Italicising game titles. Seems to be done, still keeping a lookout
Moving all the walkthrough pages to the new Walkthrough space.
Fixing all the redirects left over from careless movers...
Adding etymologies to articles in need of one.
Crisis Core spells and abilities with Zolo and Nagato.
Fixing up pages for enemies in Dawn of Souls.
Fixing all pages that link to disambigs. But still keeping an eye on it.
Moving tagged pages so they have tags with capital letters (someone has to do it).
Fixing pages that link to old names
Moving FFIV enemy pages to new names
Clean up of Special:Unusedfiles
Add Tetra Master images to articles
Redo Template:Battle information FFT and add it to FFT location articles
Add images to articles with the Battle information FFT template and update relevant information.
Format tables and infoboxes so they follow the colour swatch guideline
Make notes on FFT enemies on disambig pages
Change the formatting of song titles and albums per forum discussion
Switch all tables to the new format, FFI - FFXII; then spin-offs.
Add Template:Tnav to all navigation templates.
Upload images for Lord of Vermilion
Add

Template:Music

to Category:Albums
Add frames to YouTube videos
Add romaji and Japanese names to FFX-2 enemy articles
Find and VFD every talk page redirect on this wiki
Add romaji and Japanese names to FFIII enemy articles
Fixing pages that lead to redirects
Redoing FFXI spell articles (with that spiffy template box :P)
Minor categorising work
Update FFIV enemy pages to include version locations
Finish Blue Magic FFXI articles
Create ability subpages for FFXI jobs
FFXI enemy family articles
Artist categories
Userboxes
| | |
| --- | --- |
| Roll! | Na nana na nana na na, Katamari Damashii! |
Sovegna
vos
This user adores the works of T.S. Eliot - Shantih shantih shantih
| | |
| --- | --- |
| | This user enjoys quoting poetry. |
| | |
| --- | --- |
| | This user is an Aussie, and damn proud of it! |
| | |
| --- | --- |
| BB | THIS USER IS WATCHING YOU |
| | |
| --- | --- |
| Dood! | This user is completely obsessed with Disgaea - Nin nin nin! |
| | |
| --- | --- |
| 1984 | This prole is a doubleplusgood orthodoxy Newspeaker. |
Awards
| | |
| --- | --- |
| | Final Fantasy has tested this user and he/she is worthy to be called sexy. |
| | |
| --- | --- |
| | This user has been nominated by Chocolancer to be a hard-worker and deserves the utmost respect. |
Fantastic!

Yuanchosaan* has fantasticified the wiki, especially all that WikiGnome stuff, and for all that fantastic fantasticifyin', she has been awarded with this medal by ChiefKakashi.

*Recipiant #4

I imagine you are already irresistible to all women, since the Pipe Trick thing KICKS ASS! I've used it like fifty times already. Thankyou! =)

Now it works! You got to stop hogging all these Medals of Honor, Yuanchy. Other users might want one too.
Kefka hates a lot of things...

But to his horror he can't hate you! You've simply done too much awesome work around the Wiki. So Kefka must grudgingly thank you for all your hard work. Congratulations!|}