Welcome to


Oerba Dia Vanille


official FaNClub!

Despite her perky nature, she hides sorrow deep within her. When she decides to overcome her Focus, she starts to give hope to her companions and Cocoon itself, that the floating shell will be unharmed and everyone will live a happy life.
"We held the light of hope in our hearts and achieved the impossible. Now we live on, to greet a new dawn."
---
Pulse fal'Cie and l'Cie are bad news. That's why Cocoon kicked them out. Live too close to the fal'Cie? One-way ticket to Pulse! That's the Purge in a nutshell.
―Vanille being tricked by Hope, Final Fantasy XIII
---
Vanille is sweet, "little" girl caught in terrible event called "war". Due to her "helpy" nature, she decided to help Fang with her Focus, but her fear of hurting people caused its incompletion. Five centuries later, they woke up on land they hated so much, and Vanille neglects neglects knowing her Focus in order to protect Cocoon. With time passing, she matures to a assured, young woman knowing what she wants and being devoted to her decisions.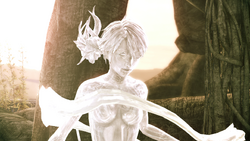 When Serah and Noel defeat Caius enhanced with the powers of Paradox Scope, an unexpected event occurs: Serah, Mog, and Noel are taken to Oerba from five hundred years before the Day of Ragnarok, where they see former residents of the village who failed to fulfill their Foci in the form of Cie'th. Serah follows a faint and gentle female voice across the village when finally stumbling upon crystallised Vanille who tells Serah about her past: how she couldn't protect her friends, the people she loved, how she didn't want to hurt and destroy. She denied her own Focus and left Fang to deal with it alone, breaking their vows to protect each other. Vanille is very desperate and asks Serah to look for Fang for her as she wants to ask for forgiveness.
Vanille feels burdened with her own cowardice and helplessness, of how she couldn't get herself together and fight for what she carried in her heart: love.
As this scene happens before the actual ending of Final Fantasy XIII, Vanille's anguish is much greater than it is shown in fragments and Serah's dream world.
Any questions to be asked on talk page. Thank you!
We advise you to read Petco's essay which describes hardships Vanille suffered since she became a Gran Pulse l'Cie and talks about decisions and their outcomes with possible ones.
We advise you to take a look at Kaimi's article which points all similarities between Yuna from Final Fantasy X and our "Red Hot Sweetheart". You might be suprised how much Square Enix borrowed from their past work!
The article is not aimed to disparage either character. Please also note that this article might still expand.
Those who feel lost within mythology of Fabula Nova Crystallis, Crystal Tear attempted at ironing out any confusion, discrepancies, understatements, and such around Chaos, gods, fal'Cie, l'Cie, and the objectives of those entities within the FNC world.
We now collaborate with The Seventh Ark arena where l'Cie from all over the world are gathered and are put into fights against each other where their sole purpose is to win their freedom.
Current battle:
Vanille Themes for Google Chrome
[
edit
|
edit source
]
For Vanille lovers who use Google Chrome we would like to advise installing a fantastic Vanille-oriented theme for his/her Google Chrome!
Vanille Theme by ILOVERAINBOWS (Its only disadvantage of-sorts is the orange bar on the top of the browser, but as the time will pass, this theme's users will grow to like it.)
This is a comprehensive list of fanclubs revolving around characters from Fabula Nova Crystallis: Final Fantasy:
Please inform us of any other FFWiki FNC:FF fanclubs on the talkpage. We will be happy to establish a partnership, too!
Community content is available under
CC-BY-SA
unless otherwise noted.