Availibility: Here, but less than before. || IRC? Maybe, Responding: Yes. (If I'm there.)
Name
J
A.K.A
J OR 1st
Job Class
Samurai
Hometown
Nibelhiem (supposedly)
Date of Birth
7th March
Age
16
Height
Taller than any moogle I've seen
IQ
Don't want to know it, but better than most
Weapon
Masamune (When I manage to get my hands on one. Or a replica)
Spells
METEOR
Summons
None, I am too powerful to need to rely on summons
limit breaks
Relentless fury/Cosmic despair/Pain of time
Edit Count

Special:Editcount/1stclasswarrior
~Insanity is the perfect weapon~
My talk Templates
[
]

1stclasswarrior

 - Meus vita , meus diligo , meus lily of sanctimonia...

TALK

- Not bad, huh?

My text template that was very kindly created for me by Scathe.
All other versions that are not the original are done by me. Quotes (that I can remember) include:


Never again...
Destroy! Destroy! Destroy! Let's destoy everything!!
1stclasswarrior

 - Come join The Sephiroth Fanclub...You'll never be a memory

TALK

- 19:36, 15 February 2009 (UTC)

My fan club template. Will only be used in the fan club sub-page I have

here.
Other games I play
[
]
In no particular order:
1. Dark chronicle (which is awesome)
2. PGR4
3. NFS Undercover and Pro street
4. Ridge racer
5. Sega rally
6. Gran turismo 4
7. Frac-ture (completed it the day I got it)
8. Bloons Tower Defence 3 + 4 (Internet)
9. Tanks (Internet)
9. Worms Armageddon
10. A copy of Pokemon Emerald that doesn't save properly
11. Fable II (AMAZING!!!!)
12. Forza Motorsport 3 (Bugatti Veyron for free! Yeah!)
13. Colin Mc'rae Dirt 2
14. Blue Dragon
Greatest quotes of all time
[
]
Misery made me a fiend. Frankenstein's monster in Frankenstein.
Tell me what you cherish most. Give me the pleasure of taking it away. Sephiroth in Advent Childeren
I will... never be a memory. Sephiroth in Advent Childeren
Die and be free of pain. Or live and fight your sorrow. Auron FF X
I have twenty-three tiny wishes, but you probably won't remember them all, so I put them all together into one...I'd like to spend more time with you. Aerith to Zack in Crisis Core
I'm not fit to help anyone. Not my family. Not my friends. Nobody. Cloud to Tifa in Advent Childeren
Nothing can beat the music of hunereds of voices screaming in unison. Kefka Final Fantay VI
Boy oh boy. The price of freedom is steep. Zack fair. At the end of Crisis Core.
I HATE HATE HATE HATE HATE HATE HATE HATE YOU! Kefka in Final Fantasy VI
Run run or you'll be well done! Kefka in Final Fantasy VI
Death comes after chaos..... Kefka in Final Fantasy VI
This is sickening! You sound like chapters from a self help booklet! Kefka in Final Fantasy VI
Do you sincerly fail to see what this is all about or you just like playing Paladin? Fae on the IRC
Trivia
[
]
1. My favorite food is Cadbury's double decker bars.
2. When I was a child, I asked my mum if I could go to sleep in custard warmed up by lava.
3. My pet dog is a ressurected dinosaur
4. I am worshipped as a god by.... 2 people!
5. I am 1/2 man 1/2 cat. This means I have 4.5 lives (even though I hate cats)
6. I have one month left to live. (according to my doctor who told me this when I was 13)
7. My house is made out of CHEESE!
8. My dad is a gingerbread person
9. I can't get the one-winged angel tune out of my head. Funny thing is, I'm happy about that.
10. I have actually commited suicide
11. I only ever get rejected by people who have seen me phisically
12. I am a member of the Under 17 Car Club (grade 4)
Acheivements and extra subpages
[
]
Acheivements
[
]
Subpages
[
]
Any medals I get will go here.
Poll Thingy!!!!!
[
]
Coming soon......
[
]
Starting the 21st of december 2008 I have been writing Superboss pages giving detailed accounts and strategies of how to defeat the superbosses in the main series.
I have also started a walkthrough for FFVII as it is my favorite game in the series and I got bored one evening.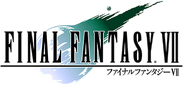 I plan to walkthrough Dissidia because I like that game. It's fun....
USERBOXES!!!
[
]