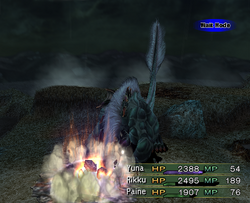 Uppercut (アッパーカット, Appākatto?) is a recurring ability in the Final Fantasy series. It is usually a powerful physical attack exclusive to enemies.
Appearances
Uppercut is an attack used by Glasya Labolas. It does moderate physical damage to a party member.
Uppercut is an attack used by Crazy Saw. It deals moderate physical damage and may inflict Confuse.
Uppercut is used by Behemoth and Humbaba. It does physical damage to a single party member.
Template:FFXI Spell Uppercut is a Blue Magic spell learned from Goobbues. It deals blunt damage. Damage varies with TP. It costs 3 Blue Magic Points to set. When set, it grants STR +2 and DEX +2. It can also be set alongside Battle Dance, Death Scissors, Temporal Shift and Spinal Cleave to create the Attack Bonus trait. It takes .5 seconds to cast and can be recast every 17.5 seconds.
Uppercut is also an enemy ability used by the Goobbue family.

Uppercut is Atomos's summon attack. It does low Earth-elemental damage.
Uppercut is also an enemy ability used by Atomos.
Uppercut has an attack power of 15 and deals Damage-elemental damage to one party member. It is an ability used by Fangpire and Vampire.
Gallery
Etymology
Uppercut is a punch used in boxing that usually aims at the opponent's chin.
Community content is available under
CC-BY-SA
unless otherwise noted.