The Underground Waterway, also known as Watery Pass, is a cave in Final Fantasy IV and Final Fantasy IV: The After Years. It is a cave filled with water that connects Kaipo and Damcyan. There are two halves of the cave. The southern part contains an underground river, and the northern part contains an underground waterfall and lake. The exit to the lake is frequented by octopus-like monsters.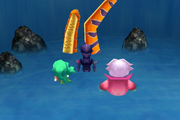 Hidden Chamber
Located near the entrance, there is a descending staircase to the small lake area. There is a secret passage inside the big waterfall, and some treasures can be found inside.
Secret Passages
At Underground Lake B2, there are two secret passages, one after the long corridor on the left side of the entrance and the other one near the exit for Underground Lake N. Both pass through the wall and lead to the southeast side of the area where there is a treasure.
Exit to Damcyan
It is found in the Underground Lake's B1, the last floor of the twin underground dungeons. An Octomammoth blocks the rest of the passage, which is the exit that leads to Damcyan. The party must defeat the Octomammoth.

The background music that plays inside the Underground Waterway is the Final Fantasy IV generic "Dungeon" Theme.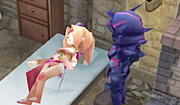 Cecil finds his beloved Rosa in Kaipo, only to learn she languishes with the deadly Desert Fever. He sets out for Damcyan to find a cure.

Description
Underground Waterway is unlocked by completing Mist Cave in the Final Fantasy IV realm. Completion of this dungeon unlocks Antlion's Den in the Final Fantasy IV realm.

Community content is available under
CC-BY-SA
unless otherwise noted.