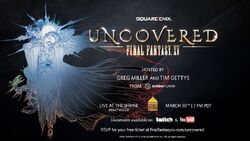 Uncovered: Final Fantasy XV is a promotional event for Final Fantasy XV, the fifteenth installment in Square Enix's Final Fantasy series. It was held on March 30, 2016 at the Shrine Auditorium in Los Angeles, California. Fans could also watch the event online via livestream.
Hosted by Greg Miller and Tim Gettys, Uncovered: Final Fantasy XV was organized by Kenwood Experiences and watched by 1.2 million people.[1]
Overview
[
]
The epic adventure of FINAL FANTASY XV kicks off with an equally momentous occasion in March.

UNCOVERED: FINAL FANTASY XV will offer new information on the game as well as key surprises that speak to the full entertainment experience. The event will be at the legendary Shrine Auditorium in Hollywood, California on March 30th, 2016 at 7 PM PDT.

Hosted by the popular duo from KindaFunny.com, Greg Miller and Tim Gettys, this free event allows fans from all over the world--both in person and via livestream--to witness the largest FINAL FANTASY production in the history of the franchise.

Official summary
People
[
]
The following is a list of people who attended Uncovered: Final Fantasy XV.
The following people made appearances in other ways:
Hironobu Sakaguchi's appearance was planned by Hajime Tabata. Sakaguchi had to be escorted into the Shrine Auditorium through its back door. His speech was given in Japanese with English subtitles and was based on a conversation he had with Tabata.[2]
Revelations
[
]
The following items were "uncovered" at this event:
The first episode of Brotherhood Final Fantasy XV was available the night of Uncovered: Final Fantasy XV. In conjunction with Kingsglaive: Final Fantasy XV, Square Enix announced its partnership with Audi and that a custom redesign of the Audi R8 was to serve as the official state car of Lucis's royal family.
In a conversation between Greg Miller, Tim Gettys, and Lena Headey, it was revealed Aaron Paul and Sean Bean would have roles in Kingsglaive: Final Fantasy XV as Nyx Ulric and Regis Lucis Caelum, respectively. Pre-registration for Justice Monsters Five was opened upon Uncovered: Final Fantasy XV's conclusion, and it was stated by Mat Kishimoto that Platinum Demo - Final Fantasy XV could also be downloaded at that time.
Following Mat Kishimoto's appearance, special editions of Final Fantasy XV and their contents were revealed.
Trivia
[
]
Square Enix was initially unsure if it should reveal the release date of Final Fantasy XV on a slot machine, as the date had been leaked prematurely. The company decided to do as planned so it could end Uncovered: Final Fantasy XV with a bang.[3]
Hajime Tabata was meant to press a button when it came time to announce the release date of Final Fantasy XV. However, he was not handed one before he appeared onstage and thus had to improvise. Tabata took out an imaginary button from his pocket and pressed it while announcing, "It's air button!"[2]
Square Enix ultimately decided to delay the release of Final Fantasy XV to November 29, 2016. Hajime Tabata announced this to the public in a YouTube video on August 15.[4]
External links
[
]
References
[
]