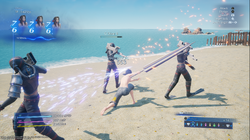 A staff---er, umbrella that repels magic. It was made as a gag, but turned out to be pretty useful.

Final Fantasy Explorers description
The Umbrella (アンブレラ, Anburera?), or the Parasol, is a recurring joke weapon in the Compilation of Final Fantasy VII.
Appearances
The Umbrella (Parasol in the BradyGames guide) first appears as a staff for Aeris. It can be won at the Gold Saucer on disc 1 by scoring at least 5,000 points in the Speed Square. It provides 58 attack, 118 Hit Rate, 10 Magic, and +20 Vitality, but has no Materia slots. It is unique in that the player can only obtain it once. It must be obtained before the end of disc 1 or the player will miss it. Umbrella is one of only three weapons that give the player a Critical% rate of +5, which is the highest possible increase.
Zack fights briefly with a parasol when in his swimwsuit while visiting Costa del Sol, and uses it to defeat Genesis's forces. Zack also uses the parasol with the attire in the Mysteries of the World section of Missions. During the Fun in the Sun! and More Fun in the Sun! sections the player will battle single enemies, a group of enemies, or a number of respawning enemies in one encounter on the beaches of Costa del Sol.
Non-Final Fantasy appearances
The Umbrella is one of several joke weapons tied to the Casual Gear when used by Roxas or Xion.
Gallery
Etymology
An umbrella or parasol is a canopy designed to protect against rain or sunlight.
Community content is available under
CC-BY-SA
unless otherwise noted.