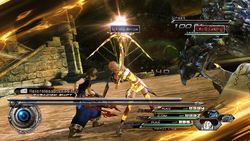 Ultima Arrow (アルテミスアロー, Arutemisu Arō?, lit. Artemis Arrow) is a recurring ability in the series. It is a Limit Break-like ability exclusive to Serah Farron.
Appearances
[
]
Ultima Arrow is Serah's full ATB skill, and part of her Ravager Crystarium tree. It is obtained as a Crystarium Expansion ability. It deals physical damage to an enemy.
Serah fires an arrow into the air and it explodes into light as it returns, consuming the area directly in front of her in multiple arrows raining down onto the target. Ultima Arrow is best used just after the opponent has been Staggered, as its chain bonus effectiveness greatly increases. As soon as Serah starts to execute the attack, the player can switch to a paradigm in which she is a Commando, such as Aggression or Cerberus, to deal more damage while still raising the chain gauge. Ultima Arrow will also deal more damage if Serah has more ATB segments.
Ultima Arrow can be used once per battle, unless the player uses an Elixir, which restores the ability to use a full ATB skill. Neither Serah nor the target can be knocked out during the animation. This can lead to a scenario where the player unleashes a full ATB skill on a near-death enemy that is just about to launch a strong attack on the player: if both parties kill each other during full ATB skill animation, the player will win the battle.

Ultima Arrow was Serah's Special Ability.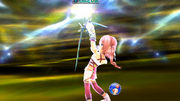 Serah's EX Ability is Ultima Arrow.

Ultima Arrow is an exclusive reactive ability that costs 18 CP to equip. It is activated in Battle Music Sequences (BMS) when a boss-class enemy appears. It deals damage in direct proportion to Magic and Luck. It is learned by Serah (level 40).
Ultima Arrow is an AGI-type ability with 1260 Attack and Defense, None element, and Normal growth rate.
Ultima Arrow is the first of two Super Soul Breaks assigned to Serah. Granted by the bow Starseeker (XIII), Serah shoots her arrow into the sky and induces a shower of non-elemental magic on all foes, hitting the battlefield five times. This move expends one segment of the Soul Gauge. When mastered, Serah's Magic will be augmented by 10 points.

Ultima Arrow is an active magic ability that inflicts neutral magical damage on all targets for 7 AP. It can be used by Reynn (Serah's Champion Jewel).
Other media
[
]
In Lightning Returns: Final Fantasy XIII Retro-spective trailer, Serah uses Ultima Arrow during the final battle.

Gallery
[
]
Etymology
[
]
[view · edit · purge]Ultima means "the last" in Latin and many Latin-based languages. In the Spanish versions of many Final Fantasy games, the spell Ultima's name is written as "Artema", a close transliteration of the Japanese katakana.
[view · edit · purge]Artemis is the Greek goddess of the moon who was often depicted as a huntress with a bow and arrows.