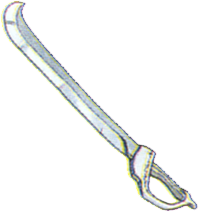 Lightning sword that feeds on its bearer's life.

Final Fantasy XII: Revenant Wings description
Tyrfing (ティルヴィング, Tiruvuingu?), also called Tyrving, is a recurring weapon in the series. It is generally a low to mid-ranked sword that provides nothing other than decent Attack power.
Appearances
Edit
The Tyrfing is a low-ranked sword that can be used only by the Onion Knight, Freelancer, Warrior, Red Mage, Knight, and Dark Knight jobs. It provides +28 Attack and can be bought for 2,000 gil at Dwarven Hollows.
Tyrfing is a sword that provides 49 damage, 236 Delay, MP +25, and an additional damage varies with MP effect. It deals 12.46 damage per second and accumulates 63 TP per hit. It can be equipped by level 78 Warrior, Dark Knight, and Blue Mage. It can be dropped From Karkinos.
The Tyrfing is Basch's lightning weapon that provides +90 Attack, +45 Magic Attack, has an attack speed of 30. Some take the description to suggest that each attack costs a little HP, in the style of a Dark Knight, but testing indicates that there is no such cost, or it is so minuscule that it can't be measured. The Tyrfing uses a generic knightsword sprite during battle. It is forged with the Hammer of Lightning recipe book.
Tyrfing is a weapon for Paladins. It is a potential treasure from Nidhogg, the final boss of the Aery.
Name
Type
iLv
Description
Equip
Patch
Materials
Crafting
Tyrfing
Gladiator's Arm
136

Auto Attack: 40.21
Damage: 58
Delay: 2.08
Magic Damage: 41
Strength: 41
Vitality: 46
Tenacity: 38
critical hit: 26

GLA PLD 55
3.0
The Tyrfing is a level 50 exclusive weapon for Onion Knight and provides +36 Attack and Damage +5%. It can be obtained from the shop by trading 15,460 gil, Rapier, Spirit Stone x3, and Recovery Shard x2.
The Tyrfing is Onion Knight's level 30 exclusive weapon, providing +40 Attack and Damage +5%. It can be obtained from the shop by trading 61,000 gil, Rapier, Scarletite, and Youth's Desire x5.
Non-Final Fantasy appearancesEdit
Tyrfing is a spear that can be equipped by Santiago.
Etymology
Edit
[view · edit · purge]Tyrfing was a magic sword in Norse Mythology. In the Poetic Edda, Tyrfling was the sword of the Goth heroes, forged by Dwarves Dvalinn and Durin for the King Svafrlami who had trapped them. In the heroic tales it gleamed like fire, would never rust or miss, and could cut through iron as easily as cloth. However, the Dwarves also cursed it so that it would kill a man every time it was drawn and would also commit three evil deeds.
Community content is available under
CC-BY-SA
unless otherwise noted.