Line 88:
Line 88:
 

[[Legend]]

 

[[Legend]]

 
 
−

[[Rod (Male)]]

+

[[Rod (Male)]]

 
 
−

[[Gun (Female)]]

+

[[Gun (Female)]]

 
 
−

[[Two Guns (Male)]]

+

[[Two Guns (Male)]]

 
 
−

[[Shotgun (Female)]]

+

[[Shotgun (Female)]]

 
 
−

[[Martial Arts (Male)]]

+

[[Martial Arts (Male)]]

 
 
−

[[Martial Arts (Female)]]

+

[[Martial Arts (Female)]]

 
 
−

[[Katana (Male)]]

+

[[Katana (Male)]]

 
 
−

[[Cissnei]] aka: [[Shiruken (female)]]

+

[[Cissnei]] aka: [[Shiruken (female)]]

 
 
 

[[Nunchaku (Male)]]

 

[[Nunchaku (Male)]]
---
Revision as of 20:27, 18 August 2015
We are Turks. We complete the mission. No matter what.

Player Turks
The Turks (タークス, Tākusu?) is the unofficial nickname of the Investigation Sector of the General Affairs Department (alternatively, the Department of Administrative Research (Final Fantasy VII)) of the Shinra Electric Power Company in Final Fantasy VII. They work inside the Department of Public Safety under Heidegger.
The Turks act similarly to an intelligence agency or investigative bureau, engaging in reconnaissance and espionage, or even black ops, including kidnappings and assassinations, on behalf of the corporation. The reputation of the Turks is that they are consummate professionals, adhering to the mission no matter what. Even if it means killing their family, they would still complete the job.
Due to the nature of their job, members of the Turks are privy to numerous company secrets and as such become security risks should they leave the company. This results in the reality that Turk members can only freely leave the company in a body bag.
While first introduced in Final Fantasy VII, the spin-off game Before Crisis -Final Fantasy VII- focuses exclusively on the Turks in the years leading up to Final Fantasy VII.
Uniform and Mannerisms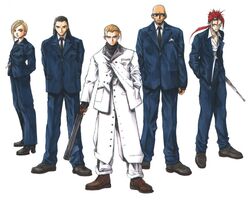 In their first appearance, the Turks usually wore navy blue business suits and ties, however, in the Compilation of Final Fantasy VII their suit color scheme changed to plain black.
The standard Turk uniform is a unisex business suit with matching tie, white undershirt and shoes. While this is the expected uniform, the degree at which it is worn is alleviated a little to allow minor reflections of the Turk's personality. For instance gloves are allowed to be worn, as well as glasses and minor jewellery. Some members also leave the suit jacket and shirt unbuttoned or alternate the type of footwear from the basic black boot to one more to their liking.
Story
Turk Institutions
Shinra Building
As a subsidiary of the Shinra Electric Company, the Turk's official headquarters is located within the Shinra building in Midgar. However, the exact location of their command center within the building is known by only a few due to the confidential nature of the branch.
Within the command center the Turks have full access to all levels of security within the company, as well as access to a considerable surveillance system linked to every Shinra facility across the globe.

Research Department QMC
This facility is responsible for supplying equipment and materia for the Turks. As the name implies, it is also likely that R.D.-QMC focuses on individual members and their specialties and approaches in gear and weaponry that help accentuate and compliment their abilities on the field. Ranking within the Turks, earned by assignments done and carried out successfully, helps act as a trust system and gives certain amounts of leeway for members to allow the company to purchase their goods for them, and for select goods, fund the required services for their creation, a system known as Rank Points.
Eventually, select and veteran members within the Turks can eventually be given access to QMC+, a more expansive department that will give access to equipment of the highest and utmost quality.
Wall Market Pub
Located in the Wall Market slums of Midgar, a certain pub is considered the watering-hole for the Turks during their time off.
Elena worked at the pub during her school years while her elder sister, Gun (Female), was operating as a Turk.

Known Members
Before Crisis
Alvis, aka: Rod (Male)
Emma, aka: Gun (Female)
Ruluf, aka: Two Guns (Male)
Freyra, aka: Shotgun (Female)
Maur, aka: Martial Arts (Male)
Judet, aka: Martial Arts (Female)
Balto, aka: Katana (Male)
Cissnei, aka: Shiruken (female)
Crisis Core
Final Fantasy VII
Musical Themes
In Final Fantasy VII, "Turks' Theme" plays during every encounter with the Turks, more specifically Reno, Rude, or Elena. Additionally, any room with the three Turks in it will have it as its background theme until they leave.
Other Appearances
Some of the Turks appear in Final Fantasy Airborne Brigade.

Non-Final Fantasy Appearances
Vincent Valentine is a secret character in Ehrgeiz: God Bless The Ring. As an optional outfit, Vincent can don his Turk suit. He uses his martial arts and gun to attack from a distance.

Gallery
Trivia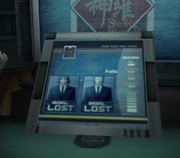 Revealed by Final Fantasy VII Ultimania Omega, the game script once contained a scene where a member of the Turks would come into Tifa's bar in Sector 7 pretending to be drunk, to spy on AVALANCHE activities, but Tifa would have soon noticed there was something suspicious about the character, and asked them to leave. Although this character was removed from the game, there still is a line of dialogue in the game that seems to reference this character, when Tifa mentions Barret squeezing information out of a suspicious man, who divulges Don Corneo's involvement with Shinra.
In Crisis Core -Final Fantasy VII- two unnamed agents were killed by 1st Class SOLDIER Genesis Rhapsodos when they went to Banora Village to investigate. They, along with Genesis's parents, were revealed to be buried under a Banora White tree.
Template:VIIBC Template:VIILO Template:VIICC Template:FFVII Template:VIIAC
Community content is available under
CC-BY-SA
unless otherwise noted.