The Tsviets (ツヴィエート, Tsuviēto?) are an elite group of soldiers that lead the Deepground army in Dirge of Cerberus -Final Fantasy VII-. In the Crisis Core -Final Fantasy VII- Complete Guide, it was revealed that colored Tsviets had their genes spliced with the genes of Genesis Rhapsodos, in addition to each of them being involved in a unique experiment that granted them their special abilities and powers.
This sharing of Genesis's genetic information is what makes the Tsviets the hellspawn of G. It is implied during Dirge of Cerberus that all the Tsviets, except for Shelke and possibly Weiss (due to Genesis's comments and his retrieving of Weiss's body) have died. Only six colored Tsviets are known:
Known Tsviets
[
]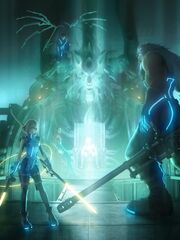 Other appearances
[
]
The Tsviets appear in Final Fantasy Trading Card Game. The cards of Shelke, Nero, Weiss, and Usher are Ice-elemental, while Rosso's and Azul's cards are Fire- and Lightning-elemental, respectively.
Gallery
[
]
Etymology
[
]
The title Tsviets is derived from the Russian "цвет", which means "color". This is fitting as all the names of the Tsviets members are based on various colors in different languages, while their "titles" are the English word for a different shade of their names.
(Shelke is Urdu for the color orange)
(Rosso is Italian for the color red)
(Azul is Spanish and Portuguese for the color blue)
(Nero is Italian and Latin for the contrast black)
(Weiß (anglicized Weiss) is German for the contrast white)
(Argento is Italian for the color silver)
In Japan, the colors of red, blue, black, and white correspond to the four elements, fire, water, earth, and air, respectively.