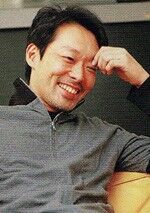 Tsuyoshi Sekito (関戸 剛, Sekito Tsuyoshi?) is a Japanese video game music composer, arranger, and performer known in the Final Fantasy community for his work as the lead guitarist of the Black Mages, of which, along with Kenichiro Fukui, he is a founding member.
Sekito joined Squaresoft in 1995 after working for Konami and worked on several games created by Hideo Kojima. His first important assignment for Square was the re-scoring of Final Fantasy II's original soundtrack for the Final Fantasy Origins release of the game.
Teaming up with fellow Square employee Kenichiro Fukui after recording the experimental All Star Pro-Wrestling soundtrack in a rock style, he worked on the hard-rock arrangement of ten battle themes of the Final Fantasy series. Nobuo Uematsu, impressed by their prowess and being a long-time rock fan, decided to form the Black Mages, serving initially as the band's producer in order to show the public the arrangements.
Sekito, called Square-Enix's "King of Rock", has contributed rock arrangements and compositions for Romancing SaGa: Minstrel Song, Final Fantasy VII: Advent Children, Dawn of Mana, as well as many other titles of renown. He is also the guitarist of the Final Fantasy XI arrangement band, the Star Onions.
Sekito mentions, amongst others, Van Halen and Dream Theater as his influences.
Musical works within the series
[
]
See also
[
]
External links
[
]