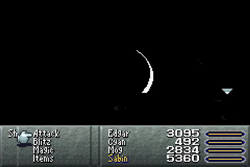 Deliver a cruciform blow that gains power the closer you are to 50% AP. Inspired by the swallow.

Final Fantasy Explorers description
Tsubame Gaeshi (燕返し?, ツバメ返し? or つばめがえし, Tsubamegaeshi?, lit. Swallow Return) also known as Tsubamegaeshi and Back Blade, is a recurring ability in the series. It is a sword ability used mainly by the Samurai class, originally appearing as the Desperation Attack for Cyan Garamonde and later used by Gilgamesh.
Appearances
Edit
Tsubame Gaeshi is Cyan's Desperation Attack, which deals magical damage to one enemy with a power of 140.
Tsubame-gaeshi is an ability usable by the Samurai Job at Level 76. It repeats the previously executed Iaijutsu with increased potency.
Tsubamegaeshi is an aerial physical Bravery attack for Gilgamesh learned by default. It requires 30 CP to equip (15 when mastered), 100 AP to master, has Melee Low priority, and can induce Wall Rush. It forces Gilgamesh to roll forward while slashing, then he performs a series of attacks that knocks the opponent downward. In EX Mode, the attack will deal more hits before knocking the opponent downward.
Tsubame Gaeshi is one of the attacks used by Gilgamesh, the fourth giant. It consists of a fast-traveling air slash followed by Gilgamesh spinning around to deliver another shockwave.
Etymology
Edit
[view · edit · purge]Tsubame Gaeshi (燕返し?, lit. Swallow Return/Reversal) is the fabled technique of the legendary swordsman, Sasaki Kojirō. Commonly known as the "swallow cut", it was a technique that mimicked the motions of a bird's tail, and was said to be so fast it could cut down birds in mid-flight. However, the depictions of the technique were often vague at best, and assorted variations are seen in various media.
Community content is available under
CC-BY-SA
unless otherwise noted.