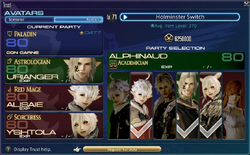 The Trust system (フェイス, Feisu?, lit. Faith) is a gameplay feature in Final Fantasy XIV added in patch 5.0. Based on the similar concept from Final Fantasy XI and Grand Company Adventurer Squadrons, this system allows players to run main scenario dungeons in Shadowbringers and Endwalker with a party of allied NPCs.
Overview
[
]

Using the Trust system, players can enter dungeons with their NPC allies as an alternative to using the Duty Finder. Unlike Adventurer Squadrons, Trust NPCs do not need player-given orders and can act on their own in battle, boss mechanics included. The Trust system is useful for players to bypass Duty Finder queue times, fight alongside their main scenario allies, and level up jobs in a solo player setting. All loot is automatically given to the player, however treasure coffers have less rewards and some enemies won't drop items.
Trusts are immune to many negative status effects, including the standard Vulnerability Up debuff inflicted by failed mechanics in boss fights as well as Weakeness/Brink of Death in the event that they are KO'd and need to be revived. The AI will also in some cases "cheat" and know how to pass mechanics before the way to do so is communicated to the player. The AI will focus on single pulls and will not move from the area the enemies are engaged from until the fight is won, leaving the player to have to pull extra enemies themselves, an act that is suicidal even for a tank as healer Trusts are incapable of the amount of healing needed for larger pulls and thus require the player to assist with healing or mitigation, should they wish to pull big. If the player is KO'ed, the party will automatically be returned to the start of the dungeon with the current fight reset, regardless of whether or not the Trusts could still fight. While the AI is able to compensate for any percieved loss of DPS, they are balanced around the expectation that a run where the player is never defeated will take about 30 minutes, in comparison to the 15 to 20 minutes a run with a party of good players should take.
As

The Mothercrystal is a trial instead of a dungeon, the rules for running as a Trust are tweaked slightly. The fight is not significantly slower than it would be with a party of players, and the player gets three lives before the fight is reset, reviving automatically without penalty. The amount of times that a player may die before reseting is increased after every reset. This fight is not allowed to be played in Avatar mode.
Scenario mode
[
]
The Trust system becomes available upon unlocking

Holminster Switch, and both Scenario and Avatar modes become available upon completing the main scenario quest

Shadowbringers. Throughout the main scenario of Shadowbringers and Endwalker, players can enter dungeons with the NPCs who accompanied them to the entrance. These NPCs will cover all necessary roles for the party composition of one tank, one healer, and two DPS. The NPCs will always be at the minimum level requirement for the dungeon. Upon completing the quest a dungeon is introduced in, it can be run afterwards with a party of NPC avatars.
Avatar mode
[
]
Avatars can be used in all Trust-compatible dungeons regardless of their absence in the main scenario. While Scenario NPCs are always at the required level of a duty, Avatars start at minimum level of the expansion and must be leveled up to participate in further duties. They earn a fixed amount of experience for completing a duty, with more EXP awarded if they are below level 80. Upon reaching level 80, NPCs can have glamours applied to them depicting previous outfits. Another glamour is unlocked for avatars that reach level 90.
Leveling all avatars to 80 rewards the achievement "Bound by Faith" and the title "Trusted Friend", and leveling all avatars to 90 rewards the achievement "Bound by Hope" and the title "The Seventh Dawn".
All-Rounders
[
]
Certain characters can perform in multiple roles, granting the player some flexibility in how they arrange their party. G'raha Tia and Venat are both All-Rounders, allowing them to fill the role of tank, healer, or DPS. Emet-Selch's discipline of the Third Seat allows him to perform as a tank or DPS. Urianger can perform as either a healer or a DPS, but only during the trial

The Mothercrystal; he is otherwise locked into the healer role.
When adding a character with multiple roles to the party, they will occupy the highest listed party slot they are allowed to; the default order (not counting the Warrior of Light) is tanks first, then healers and finally DPS. The characters with multiple roles should be added as late as possible to ensure they will join as the desired role.
Trust NPCs
[
]
Avatars
[
]
Name
Job
Character-specific details

Alphinaud Leveilleur



AcademicianShadowbringers
SageEndwalker

Alphinaud's job is fixed based on the expansion the dungeon is from; he will always be an Academician in Shadowbringers and a Sage in Endwalker.
As an Academician, Alphinaud summons Moonstone Carbuncle as his pet. While it lacks periodic healing, it will cast weak attack magic and can provide Damage Up buffs to party members.
Alphinaud will prioritize Alisaie's safety if they are grouped up. If she is not in the party, Alphinaud will instead prioritize the player.
Very strong at healing critical HP.
During the Funambulist's Fantasia mechanic in Dohn Mheg, Alphinaud will slowly walk through before nervously ("I'm not afraid... I'm not afraid...") running the rest of the way at the halfway point and takes a sigh of relief when finishing, preventing him from reaching the boss's barrier in time.
During the Frosbite and Seek mechanic in Ktisis Hyperboreia, Alphinaud will note the tracks left by Lyssa and figure out where to go ("Footprints?), making it just in time to the dodge. During the second usage he will again note Lyssa's disappearance and follow the tracks to safety more quickly ("Vanished again... But again, it's left footprints.")

Alisaie Leveilleur



Red Mage

Alisaie will immediately use Limit Breaks when possible.
Will heal and raise in emergencies, making her well balanced and reliable, but does not truly excel in any specific playstyle.
During the Funambulist's Fantasia mechanic in Dohn Mheg, Alisaie will sprint the entire way ('Oh, come now. We know this is an illusion.").
Whilst fighting the miniboss Lyssa during Ktisis Hyperboreia, Alisaie will become frustrated whilst the boss is hiding using Frostbite and Seek, and attempt to use Contre Sixte several times in every crater.

Thancred Waters



Gunbreaker

Thancred will not use Cartridge-based skills unless Ryne (and later, Y'sthola or Urianger) is in the party, owing to his inability to charge cartridges on his own.
Very strong against bosses as he is able to sustain himself with self-healing and shields.
If a party member is injured, Thancred will refrain from using Aurora on himself and instead use it on the party member on low HP, prioritizing the player and then healers.
Frequently uses Heart of Light to increase the party's magic defense when an unavoidable enemy AoE is incoming.
Uses Superbolide when near death.
During the Funambulist's Fantasia mechanic in Dohn Mheg, Thancred expresses mild annoyance ("This wouldn't fool a child.") before running part of the way and leaping across to the boss using Shukuchi ("Good thing I'm light on my feet.").
During the Frosbite and Seek mechanic in Ktisis Hyperboreia, Thancred will be unimpressed by Lyssa's ability to use stealth, and quickly notes the footprints in the snow giving away it's location before moving to safety. During the second usage, he is mildly impressed that Lyssa tries to confuse the party by wandering in stealth more, but notes that the same problem as before persists.
During The Mothercrystal trial, if the player is not a tank, he will be the main tank whilst G'raha is the off tank. Should the player be the tank, Thancred will instead off tank and support the player with stack mechanics and buffs. It is still possible for Thancred to take over as the main tank if the player does not get the lead in aggro.

Urianger Augurelt



Astrologian
LithomancerThe Mothercrystal

For The Mothercrystal, Urianger can switch to Lithomancer if the player's job is a healer. This is the only duty where he can change discipline.
Lithomancer acts similarly to how Arcanists and Summoners behaved prior to their rework in Endwalker, with a persistent Topaz Carbuncle pet supplementing Urianger's own damage.
Urianger will, on occasion, cast Death on enemies to instantly defeat them. This doesn't extend to bosses, and will always target the enemy with the lowest HP.
Provides damage up buffs to the DPS in the party.
Will occasionally use an AoE that inflicts slow and heavy on enemies, making him effective against a large number of enemies.
During the Funambulist's Fantasia mechanic in Dohn Mheg, Urianger expresses mild amusement before teleporting across ("This shan't trouble us.").
During the Frosbite and Seek mechanic in Ktisis Hyperboreia, Urianger will immediately realise what is happening and makes no hurry to get to safety, gliding away at the last second knowing he will dodge in time. During the second time he will be unimpressed the boss would repeat it's tactics, which causes Urianger to repeat his own method to dodge.

Y'shtola Rhul



Sorceress

Y'shtola will cast offensive magic in set sequences, primarily from Black Mage but also using some White Mage visuals. Periodically she will instead use Foul and then cast multiple Fire IV spells.
Has some minor AoE splash damage through her spell rotation.
During the Funambulist's Fantasia mechanic in Dohn Mheg, Y'shtola will simply briskly walk through as if there were no illusion ("An asinine trick.").
During the Frosbite and Seek mechanic in Ktisis Hyperboreia, Y'shtola will be able to see the aether of the boss in hiding and walks to the safe spot immediately.

Minfilia / Ryne



Oracle of Light

Known as Minfilia prior to Malikah's Well in the main scenario.
Ryne is the only character to fight with a basic class (Rogue) instead of a job. During her time as Minfilia, she will not use Limit Breaks if the player is a DPS.
For most non-boss encounters Ryne will initially use Vanish, approach the enemy, and use Trick Attack.
Ryne has access to the unique spell Banish, through her use of the Oracle of Light ability.
During the Funambulist's Fantasia mechanic in Dohn Mheg, Ryne will nervously pause at the start ("W-We're supposed to cross this?") before tip-toeing through while pausing at certain points ("One step at a time...") and is unable to reach the boss's barrier in time.
Ryne's level is capped at 80 and she cannot be used in Endwalker dungeons.

Crystal Exarch / G'raha Tia



All-Rounder

Can be a Paladin, White Mage, or Black Mage depending on the desired role.
Uses abilities available to the job he is using despite not being at the required level for them.
As the Crystal Exarch, he is only playable in Scenario mode. After completing the quest Reflections in Crystal, G'raha Tia joins as an Avatar and starts at level 80. His first glamour is automatically unlocked.
As a Paladin he is all-around good, effective against any type of encounter. Will use Clemency and Hallowed Ground in emergencies but otherwise relies on his high defense.
Extremely aggressive as a White Mage and AoEs frequently, making him very effective against a large number of enemies but can struggle healing critical HP.
As a Black Mage he functions similar to Y'shtola, although G'raha sacrifices AoE damage for high single target damage.
During the Funambulist's Fantasia mechanic in Dohn Mheg, G'raha Tia will run to the start of the rope and stop briefly to unsheathe his weapon ("I regret to disappoint, but I'm more than comfortable with heights!"), then sprint the entire way.
During the Frosbite and Seek mechanic in Ktisis Hyperboreia, G'raha will first be shocked by Lyssa's disappearance and confuse it for the "Vanish" spell, but realizes the truth in time to get out of the way ("Is this...Vanish?...No, it couldn't be.") During the second usage, he will identify the safe spot quickly and runover, stretching while waiting for Lyssa to reappear ("If you would conceal yourself...You must really learn to cover your tracks.")

Estinien Wyrmblood



Dragoon

Added in Endwalker, starting at level 81 as an Avatar. He cannot be used in Shadowbringers dungeons, and his first glamour is automatically unlocked.
High HP and Defense.
Many of his attacks are AoEs, making him very effective against a large number of enemies.
Estinien has a unique buff named "Shadow of the Dragon" in counterpart to Dragoon's Life of the Dragon.
Estinien will immediately use Limit Breaks when possible.
During the miniboss fight Lyssa in Ktisis Hyperboreia, Estinien will use elusive jump to avoid the first use of Frostbite and Seek. During the second usage, he will attempt to the flush out the boss using Stardiver, before walking casually to the side to wait.
Scenario mode exclusive
[
]
The following NPCs are only playable for specific dungeons in Scenario mode.
Name
Job
Dungeon
Character-specific details

Lyna



Guard Captain
Holminster Switch

Lyna does not use Closed Position to select a Dance Partner. As a soldier, her efforts are more focused on offense.

Hythlodaeus



Soulseer
Ktisis Hyperboreia

Has the ability to use True Benediction, fully recovering the target's HP if it is dangerously low.
Will use True Raise to instantly raise Emet-Selch and Venat if they are defeated in battle.
Hythlodaeus will immediately use Limit Breaks when possible.

Emet-Selch



The Third Seat
Ktisis Hyperboreia

Can be a Dark Knight or Black Mage depending on the desired role.
As a Dark Knight, his tank stance is "Klymenos", literally "The Famous One". At low HP he will begin casting high damaging spells on his target, when near death he will use Katabasis, functioning identical to Living Dead.
As a Black Mage, like Y'sthola, he can use more elemental spells than the usual Fire/Blizzard/Thunder.
Will use Anabasis to instantly raise Hythlodaeus and Venat if they are defeated in battle, regardless of role.
Has a unique spell casting animation of him clicking his fingers.

Venat



All-Rounder
Ktisis Hyperboreia

Can be a Paladin, White Mage or Dancer depending on the desired role.
Extremely aggressive, will provide frequent buffs to the party and reacts very fast to mechanics.
Has access to True Renew, a healing spell that fully recovers the party's HP and MP. She will use it if the player or the party are on dangerously low HP, or if Emet-Selch as a Dark Knight uses Katabasis.
Will use True Arise to instantly raise Emet-Selch and Hythlodaeus if they are defeated in battle, regardless of role.
As a Paladin she has a unique battle stance and will keep casting Clemency on herself when on low HP. When near death she will use True Hallowed Ground and heals herself to full using True Renew.
As a White Mage she will cast True Stoneskin regularly, granting a potent shield to the party.
As a Dancer she will cast True Bravery on the player frequently, buffing their damage, whilst also using True Finish on the party.
During the Frosbite and Seek mechanic in Ktisis Hyperboreia, Venat will immediately get to the safe spot and casually waits for the Warrior of Light, Emet-Selch and Hythlodaeus to join her.
Duties
[
]
Name
Level
Avatar EXP
Scenario members
Holminster Switch
71
3,091,000below level 80
1,236,400 above level 81
Alphinaud, Alisaie, Lyna, Crystal Exarch
Dohn Mheg
73
3,442,000below level 80
1,376,800 above level 81
Alphinaud, Alisaie, Thancred, Urianger, Minfilia
The Qitana Ravel
75
4,021,000below level 80
1,608,400 above level 81
Thancred, Urianger, Y'shtola, Minfilia
Malikah's Well
77
4,757,000below level 80
1,902,800 above level 81
Alphinaud, Alisaie, Thancred, Urianger, Y'shtola, Ryne
Mt. Gulg
79
5,439,000below level 80
2,175,600 above level 81
Alphinaud, Alisaie, Thancred, Urianger, Y'shtola, Ryne
Amaurot
80
2,208,400
Alphinaud, Alisaie, Thancred, Urianger, Y'shtola, Ryne
The Grand Cosmos
80
2,254,000
Alphinaud, Alisaie, Y'shtola, Crystal Exarch
Anamnesis Anyder
80
2,293,200
Alphinaud, Alisaie, Thancred, Urianger, Y'shtola, Ryne
The Heroes' Gauntlet
80
2,331,200
Alphinaud, Alisaie, Thancred, Urianger, Y'shtola, Ryne
Matoya's Relict
80
2,365,600
Alphinaud, Alisaie, Y'shtola, G'raha Tia
Paglth'an
80
2,404,400
Alphinaud, Alisaie, Thancred, Urianger, Y'shtola, G'raha Tia
The Tower of Zot
81
2,655,600
Alphinaud, Alisaie, Thancred, Estinien
The Tower of Babil
83
3,032,800
Alphinaud, Alisaie, Thancred, Urianger, Y'shtola, Estinien, G'raha Tia
Vanaspati
85
3,509,200
Alphinaud, Alisaie, Thancred, Y'shtola, Estinien, G'raha Tia
Ktisis Hyperboreia
87
3,915,600
Hythlodaeus, Emet-Selch, Venat
The Aitiascope
89
4,024,800
Alphinaud, Alisaie, Thancred, Urianger, Y'shtola, Estinien, G'raha Tia
The Mothercrystal
89
N/A Unplayable with Avatars
Alphinaud, Alisaie, Thancred, Urianger, Y'shtola, Estinien, G'raha Tia
The Dead Ends
90
—
Alphinaud, Alisaie, Thancred, Urianger, Y'shtola, Estinien, G'raha Tia
External links
[
]