Trial of Titan is a demo of Final Fantasy XV created for E3 2016. It has the player control Noctis Lucis Caelum during a three-way battle between Noctis's party, Niflheim soldiers, and the Astral Titan. The demo was specifically created for E3 and is a modified version of the event in the game.
The battle with Titan is a multi-tiered process. First, Noctis must fend off sweeping attacks from Titan's fists with a series of timed button presses. Once his allies arrive they must take out one of the giant's arms. The battle ends with Noctis casting blizzard to freeze Titan.
The demo was first shown live on stage during Microsoft's event on "Day 0" of E3, played by Mat Kishimoto, the Senior Product Marketing Manager at Square Enix America. The showing was later criticized by many viewers as "incompetent" as Noctis ended up being battered around the field a lot, not getting many hits in. Kishimoto later commented: "[...] This even after I butchered the Trial of Titan demo and failed to redeem myself afterwards. By the way, I am still not sure what happened. I can do better than that, I promise!!"[1] The Trial by Titan demo was later playable at Square Enix's booth for both Xbox One and PlayStation 4 so all visitors could have a go.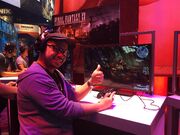 There is a slight different with Xbox One and PS4 specs for the demo. For the Xbox One E3 demo, dynamic resolution ranges between 800p to 900p, usually closer to the 900p range, and at a constant 30 frames per second, thus performing at a more stable and higher level than Final Fantasy XV Episode Duscae and the Platinum Demo – Final Fantasy XV. There are times it still dips, usually when the player calls on the ally commands, like calling on Ignis to mark an enemy it dips to 26 to 27 frames. Since the developers were able to achieve this for the E3 demo, they remain positive on the final version.[2]
The PlayStation 4 E3 demo has a dynamic range between 900p and 1080p. Most of the time, it's about 1080p at a constant 30 frames per second. Sometimes it dips a little when the GPU can't process what's happening on the screen so quickly, but it's mostly 30 frames. Director Hajime Tabata said they will continue to fine tune and optimize the game for as much time as they can.[2]
The demo was also playable by attendees of San Diego Comic-Con 2016. Players who were able to destroy Titan's arm successfully and complete the challenge were rewarded with exclusive t-shirts.[3]
See also
[
]
References
[
]