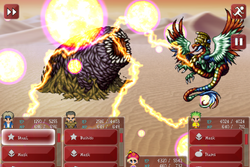 Hits enemies with fire, ice and lightning.

Final Fantasy VI description
Tri-Disaster (トライディザスター, Torai Dizasutā?), also known as Tri-Dazer or Tetra-Disaster, is a recurring attack in the Final Fantasy series. It usually deals multi-elemental damage, specifically Fire, Ice and Lightning.
Appearances
Edit
Tri-disaster is a Band ability. The three black mages, Rydia, Palom, and Leonora cast a succession of powerful black magic.
Tri-Disaster (Tri-Dazer on the SNES) makes its first appearance as the triple elemental attack of the Esper Valigarmanda. It costs 68 MP.
Tetra-Disaster, a mistranslation of Tri-Disaster, is the attack Kujata uses when summoned. It costs 110 MP to summon and deals Fire, Lightning, and Ice elemental damage to all targets.
Tri-disaster appeared from version 2.0 to 2.55, as a Summoner ability available after completing the "Shadowing the Summoner" Summoner story quest. The ability deals small non-elemental damage and causes a 20 second bind to the target and nearby enemies.
Since version 3.0 (Final Fantasy XIV: Heavensward), the old Tri-Disaster was renamed to Tri-Bind (トライバインド, Torai Baindo?) and a new Tri-Disaster skill was given to Summoners after completing the level 56 job quest. When used, the ability will instantly inflict the Bio, Bio II, and Miasma damage over time effects to an enemy. This change was done due to Naoki Yoshida believing that the original ability did not live up to skill's name.
Tri-disaster's effect was changed in Final Fantasy XIV: Stormblood due to changes in the magic system. It now afflicts the target with the player's strongest Bio and Miasma spells as well as temporarily making them more vulnerable to the caster's Ruin spells.
Tri-Disaster is an ability used when summoning Valigarmanda, and deals three summon magic fire, ice and lightning attacks to all targets.
Tri-Disaster is also a Burst Soul Break available to Palom learned through the Chocobo Suit (IV). Palom's Tri-Disaster deals eight magic fire, ice and lightning attacks to one target and grants Haste and burst mode to the user. This Soul Break will deal ten attacks instead if the target has a Slight Weakness or is Vulnerable to fire, ice or lightning elements. As any other Burst Soul Break, Tri-Disaster changes the Attack and Defend Commands to Bomb Thunder and Ice Thunder commands respectively.
Tri-Disaster requires one Soul Gauge to cast, requires 30,000 AP to learn and when mastered, permanently grants a +10 bonus to Palom's Magic stat.
Tri-Disaster is an enemy ability used by Pellinore.
Tri-Disaster is a summon of the Magun. Fittingly, it uses the Fire Red, Ice Blue, and Lightning Yellow Soils in order to activate.
Etymology
Edit
[view · edit · purge]Tri- is a numerical prefix meaning three.
Community content is available under
CC-BY-SA
unless otherwise noted.