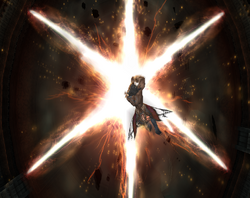 Tree of Sephira (セフィラの大樹, Sefira no Taiju?, lit. Great Tree of Sephira) is a recurring ability in the Final Fantasy series. It is an ability used exclusively by Vayne Carudas Solidor.
Appearances
Edit
Tree of Sephira is an enemy ability used by Vayne Novus, which deals non-elemental damage with 100% accuracy to all targets within a range of 25.5 and a Circle of 20, a CT of 1, knockback of 100, and a power of 135.
Etymology
Edit
The Tree of Life is a classic descriptive term for the central mystical symbol used in the Kabbalah of esoteric Judaism, also known as the 10 Sephirot, and the 22 Paths. [view · edit · purge]Səphīrōth (סְפִירוֹת, medieval Hebrew form of Sephirot; also spelled Sefirot), is a plural noun in Hebrew; the singular is Sephirah (also spelled Sefira). The Sephiroth are described in the Kabbalah as the manifestations of God that allow him to manifest in the physical and metaphysical universes. Sephiroth also means "counting" (of numbers).
Community content is available under
CC-BY-SA
unless otherwise noted.