Now take this sword, this Treaty-Blade. Occurian seal, mark of your worth. Cut deep the Cryst and seize your Shards. Wield Dynast King's power! Destroy Venat!

Gerun, leader of the Occuria
The (Treaty Blade, 契約の剣?, lit. Keiyaku no Ken) is a sword in Final Fantasy XII. Crafted by the Occuria, it is capable of cutting nethicite.
Story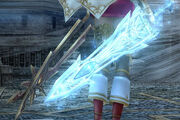 In the past, the Occuria gave a blade known as the Sword of Kings to King Raithwall, who used it to carve the Dawn Shard, Midlight Shard, and Dusk Shard from the Sun-Cryst, and forge the Galtean Alliance. The Occuria gave the Treaty Blade to Princess Ashe, Raithwall's descendant, for a similar purpose - to destroy the Archadian Empire and bring forth a new peace.
Atop the Pharos at Ridorana, Ashe was given the chance to cut new shards of nethicite from the Sun-Cryst, and use them to fight the Empire. However, she realized the Dalmasca she was fighting to reclaim was one which did not abuse the nethicite's power. Ashe thus refused the Occuria's assistance and did not use the blade.
Spoilers end here.
</div></div>
Unlike its counterpart, the Sword of Kings, the Treaty Blade is never lost during the course of the game and remains in the party's inventory at all times.
Equipment Stats
The Treaty Blade is a two-handed Greatsword with an Attack power of 30, and boosts Evade by 30. This makes it technically the Greatsword with the lowest attack, along with the Sword of Kings. Its combo rate is 25%. It requires no license to equip, and as a key item cannot be sold or discarded. All greatswords have 2.47s charge, and 1.2s action time, making them average what it comes to attacking speed.
Stat-wise, it is identical to the Sword of Kings, appropriate given its purpose. Despite being capable of hacking through nethicite, it is a weak weapon offensively, its only special quality being the high combo rate and that it can't knockback opponents like other greatswords.
Other Appearances

Ashe wields the Treaty Blade in the Theatrhythm Final Fantasy.