Cid Pollendina
:
Oh, shut up and help me remodel the Treasure Trove page!
Please expand this article into a full one. The following tasks need to be completed:This request can be discussed on the associated discussion page. Remove this notice upon completion.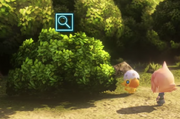 Treasure Troves are certain spots within dungeons of World of Final Fantasy that contain various items. They can only be detected and examined by Mirages with the Stroll ability unlocked, and while accompanying Lann and Reynn on the field.
When the party is close to a Treasure Trove, the Mirage will detect something, approach the Treasure Trove, and play its battle victory animation. The Treasure Trove can then be examined (as indicated by a symbol with a magnifying glass superimposed over it) and the player can collect one item from it. The type of item from a Treasure Trove varies depending on the Mirage detecting it.
A Treasure Trove is first introduced in Chapter 1 as the twins make their way through Wellspring Woods and are impeded by a Gimme Golem in want of a Lusterleaf. The Treasure Trove in the bushes not too far from the Gimme Golem houses the Lusterleaf needed to make it disappear.
Locations
Edit
Community content is available under
CC-BY-SA
unless otherwise noted.