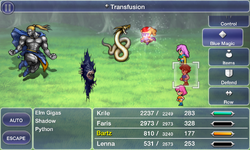 Sacrifices caster to completely restore an ally's HP and MP.

Final Fantasy V description
Transfusion (融合, Yūgō?, lit. Fuse), also known as Pep Up, Fuse, Fusion, and Merge, is a recurring ability in the series, most commonly used by Flan-type enemies. It generally restores all HP and MP to the party at the cost of removing the user from the battle.
Appearances
Edit
Fuse is an enemy ability used by Creator, which deals damage to one target and absorbs that damage as HP.
The Blue Magic Transfusion (also called Pep Up) kills the user, and the chosen target fully recovers his/her HP and MP. It cannot be reflected. If the caster of the spell is also its target, the caster dies, but recovers all of their MP. It costs 13 MP to cast. It can be obtained from the enemies Mythril Dragon, Calcruthl, Birostris, Devilfish, and Mover, as well as the boss Gargoyle. It can also be used by catching and releasing a Devilfish or Birostris.
Fully heals an ally at the cost of the caster's own life and all MP.

Description
Strago can learn Transfusion (also known as Pep Up) and it costs 1 MP to cast. It removes the user from battle permanently, but restores HP/MP to the chosen target as well as removing all negative statuses except KO and Frozen. Transfusion can be learned from Intangir, Junk and Mousse.
Gau's Rage, Intangir, also allows him the use of Transfusion.
Flans can use Sacrifice to fully heal the HP of a target at the cost of being KO'd.
Flans can use Merge to fully heal the HP of a target at the cost of being KO'd.
Community content is available under
CC-BY-SA
unless otherwise noted.