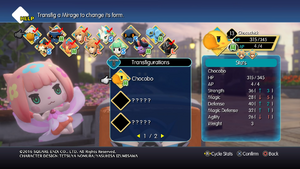 Transfiguration (or transfigging) is the act of changing to a more powerful Mirage and back, in World of Final Fantasy. It is a gameplay mechanic that allows the player to change their Mirages into different forms, each form having differing statistics and abilities.
A Mirage can transfig into forms of that of other Mirages with like-attributes and physical appearances. This can be accomplished by unlocking the transfigurations within their Mirage Board, either by reaching a certain level or acquiring a memento that corresponds to that form. Such forms that are available to the same type of Mirage are grouped as a "family", and are often listed in the order from smaller and weaker forms, to larger and stronger ones.
To transfig a Mirage, the player must access the Prism Case and place the cursor above that Mirage's icon to make the Transfigurations command appear. Following the command then displays the Mirage's other forms and the player can select whichever form for their Mirage as they wish, and may also change back. The player is also shown a comparison window that displays the increase or decrease in stats and resistances between the Mirage's current form and the selected form to transfig into.
A Mirage has access to all spaces unlocked within the Mirage Boards of its different forms, and any abilities and stat boosts unlocked is shared between all of them (excluding abilities unique to that particular form). Because of this, the Mirage that can tranfig to one particular form may potentially be stronger than another Mirage of that different form the player imprisms (such as transfigging a Chocochick already in the player's party into a Chocobo, rather than imprisming a Chocobo separately).
Using the Rename Prism allows the player to change the name of one of their Mirages, and the new name carries over between all its forms.
List of Mirage transfigurations
[
edit
|
edit source
]
Names for transfiguration groups are conjectural. Names in italics indicate forms that are not encountered in battle, while those in bold indicate DLC/Maxima-exclusive Mirages. Mirage names with an asterisk (*) indicate forms requiring their respective mementos to be unlocked.
Reconfiguration groups are listed in the order as they appear in the Mirage Manual.
Mirages with no other tranfigurations
[
edit
|
edit source
]
The following is a list of player Mirages with no other forms to transfig into.
Transfiguring (or transforming) is a change of outward appearance or form.
Community content is available under
CC-BY-SA
unless otherwise noted.