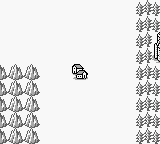 Town of Hero (英雄の町, Eiyuu no Machi?) is a location in The Final Fantasy Legend, located southeast of Base Town. The Castle of Shield is near the town while the Castle of Armor is to the northeast, and the Castle of Sword is in the southeast mountains.
Story
[
]
The main characters arrives in Town of Hero where they learn the Status of Hero is located in the center of town, but is missing some pieces which are the shield, armor, and sword. They also learn that three kings are fighting for control of the world. The citizens gives them the location of the three castles.
After acquiring all the piece of equipment from the three kings, the party returns them to the status and acquirers the black sphere. When the party tries to leaves the area, Gen-Bu appears behind them. He tells them that another group has gathers the three items together, and engages them into battle. After his defeat, he warns them that this isn't over and he disappears. The party returns to Base Town to unlock the door into the Tower.
Shops
[
]
Equipment

[

]

Items

[

]

| Name | Cost |
| --- | --- |
| Strong | 300 GP |
| Agility | 300 GP |
| HP200 | 100 GP |
| Potion | 50 GP |
| XPotion | 200 GP |
| Bell | 100 GP |
| Shocker | 100 GP |
Enemies
[
]
Gallery
[
]