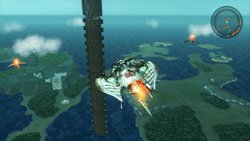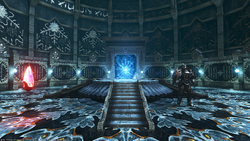 In a remote region of Orience accessible only by airship stands a structure known to some as the Tower of Agito. Supposedly, all those who ascend the myriad staircases will become Agito...but who would believe such fantasy?

Dominion Tribune in Corsi
The Tower of Agito (アギトの塔, Agito no Tō?)—less commonly known as the Tower of Judecca—is an optional dungeon in Final Fantasy Type-0. It is located in Eibon Region and can only be accessed with the Setzer airship.
Story
Hail, friend. This is the Tower of Judecca, known to many as the Tower of Agito. I have heard that this place houses a l'Cie Stone—and, judging by this omnious aura, it appears the rumor may hold some credence after all. According to ancient scripture, 'the sole path leading skyward is strewn with the bodies of a hundred.' Climbing the tower is a feat insurmountable for even a Secundus l'Cie—let alone for a mere mortal. He who dares ascend those stairs is either fearless or utterly foolish. If, however, you do not shudder at the thought of walking into certain death, then you may proceed.

Atra
It is said that entrance to the tower is prohibited as per Orience law. Atra is waiting at the dungeon entrance because of rumors that the Tower of Agito houses a l'Cie Stone.
Spoilers end here.
Gameplay
Strategy
First Chamber
Second Chamber
Third Chamber
Fourth Chamber
Fifth Chamber
Behemoth Kings can be easily defeated using Meteor.
Chamber of Ruin
Spoilers end here.
Quests
The Armory Guildsman from Akademeia wants Class Zero to fetch a Darksoul Swarm from one of the monsters in Agito Tower for Slayer's Spoils VII.
Items
Special
Because the Agito Insignia is only obtainable once per playthrough, the following drops will replace it on consecutive dungeon clearings within a playthrough:
Accessories
These accessories are obtained from the chests on each floor.
Chest 1
Chest 2
Chest 3
Chest 4
Chest 5
Key Items
Enemies
Enemy Level: 128
Gallery
Etymology
Agito [aɡɪtoː] is a Latin verb conjugation meaning "I put in motion". It is the first principal part (first-person singular present active indicative) and citation form of the verb; its infinitive form is agitāre, "to put in motion". In Final Fantasy Type-0 the name "Tower of Agito" comes from the term Agito, the fabled savior of Orience who is said to appear at the end of the world.
Trivia
References
Community content is available under
CC-BY-SA
unless otherwise noted.