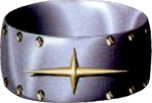 A rare ring thought to have been produced by the Shinra Company, an influential utilities provider in another world. These valuable rings make their bearers more resilient, and thus are granted only to those who undertake especially perilous missions, such as 1st Class SOLDIERs.

Final Fantasy Brave Exvius description
Tough Ring (タフネスリング, Tafunesu Ringu?), also known as Touph Ring or Ring of Toughness, is a recurring accessory in the series, which first appeared in Final Fantasy VII.
Appearances
[
]
Tough Ring (initially localized as Touph Ring) is an accessory that rovides +50 Vitality and Spirit. Sephiroth wears one during the mission in Nibelheim, alluding to its use by 1st Class SOLDIERs; the player cannot unequip it during the flashback. The ring can later be stolen from Turks:Reno in the Sunken Gelinka, and during the Midgar raid, when the Turks face the party in the subway. The accessory is missable; the Turks disappear from the Gelnika after the Midgar events, and the player does not need to fight the Turks in Midgar if they completed the Wutai sidequest earlier.
Tough Ring is an armor for Yuna which can be obtained by having any ring with HP +20% or HP +30%.
Ring of Toughness is an accessory which provides DEF and SPR +30, and grants the passive ability Mettle: The equipped unit has a 20% chance to ignore fatal damage when its HP is above 80%, but it can be triggered only once during battle.
The ring was obtainable during the Final Fantasy VII event, Nibelheim, by exchanging 15,000 etched coins on King Mog's reward shop.
Gallery
[
]