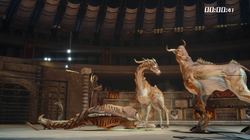 The towering Arena Galviano dominates the city center, and the convenient gondola service stops right in front of the colosseum. Try your hand at Totomostro by picking the winners in epic monster-versus-monster clashes—but remember to purchase Galviano Medals before you play!

Tourist information
Totomostro (トトモストロ, Totomosutoro?) is a minigame in Final Fantasy XV. It is an event where monsters around Eos are pitted against each other, and players wager their bets on which monster teams survive the battle. Held at the towering Arena Galviano in Altissia's city center, Totomostro is celebrated around the city with gold and red posters promoting both the event and the colosseum. A gondola service from Listro Park in the north stops right in front of the colosseum. It uses Galviano Medals as betting chips, each costing 10 gil, and the player can wager a maximum of 9,999 medals. The medals are inventory items and thus carry over for New Game Plus and Chapter Select.
So it goes with games of chance.

Ignis upon losing a wager.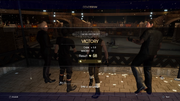 The player begins by purchasing medals for waging in the arena. Next, the player selects a monster team and the number of medals to wage, with a cap of 9,999 medals. A list of 2 to 4 monster teams is presented along with their winning odds and team condition. At night, rare daemon teams may also appear, denoted by a purple HP bar. The battle is limited to 1 minute and 30 seconds, and the last monster team standing is declared the winner. If the timer expires, the battle is declared a draw and the player's bet is returned.
Team condition, indicated by the stacks of blue up-arrows, represent the Attack and Defense stats multipliers of each team member. Below is a list of available stats:
| | | |
| --- | --- | --- |
| No. of Arrows | Attack | Defense |
| 5 | x3.5 | x2 |
| 4 | x3 | x1.5 |
| 3 | x2.5 | x1.2 |
| 2 | x2 | x0 |
| 1 | x1.5 | x0.75 |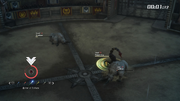 Noctis can increase his chances of winning by using a gridanta, an instrument to manipulate a monster team's condition. A prompt will pop up where the player must continuously tap a button to activate it. He starts off with a Horn of Fortitude, which restores the supported monster's HP. The player can easily play just with the starter horn, but other gridanta can be purchased from the Sondonda vendor outside Arena Galviano's gondola station. Players can switch between gridanta by pressing the

and

buttons on the PS controller.
TODAY'S TOTOMOSTRO
No Rest for the Wicked
Daemons from 9!
FIGHT CARD
Iron Giants, Arachnes, Ronins, and more!

Sign
There are four Totomostro battles, each taking place for an entire day. After Chapter 9, a fight card called "No Rest for the Wicked" featuring daemons are included in the day's battle beginning from 9:00pm to 12:00am in-game. However, teams do not change if the player remains in the arena after midnight, and players must leave for new teams to appear.
Note: Daemon teams denoted in italic.
The scorched earth comes to Altissia!
Hotter than a meteor strike!
When the mountains meet the sea... in battle!
No matchup is too absurd!
Items in italics are one-time purchases and are replaced by the item listed below them.
| | | |
| --- | --- | --- |
| Item | Description | Medals |
| Magitek Generator | Modification to Regalia that makes it not require fuel. | 3,600,000 |
| Onion Bangle | Accessory: Max HP +2500. Replaces Magitek Generator. | 2,400,000 |
| Diamond Bracelet | Accessory: Strength +70 | 1,250,000 |
| Exhaust Manifold (Windows/Royal Edition) | Upgrade for Type-D that makes jumping deal fire damage to enemies | 480,000 |
| Big Bang | Decal of the Big Bang artwork for the Regalia. | 450,000 |
| Centurion Bangle | Accessory: Max HP +1000 | 450,000 |
| Mythic Color Samples | New paint jobs for the Regalia. | 360,000 |
| Emerald Bracelet | Accessory: Strength +60 | 360,000 |
| Arapaima Roe | Cooking ingredient needed for making Royal Banquet Canapé | 240,000 |
| Enforcer | Firearm: Atk Pwr: 243, Spirit: +19, +10% Critical Rate | 180,000 |
| Precision Lance | Polearm: Atk Pwr 266, +10% Critical Rate | 120,000 |
| Llymlaen | The best fishing reel. Atk : 330 | 85,000 |
| Platinum Bangle | Accessory: Max HP +700 | 85,000 |
| Big Master Typhon | A fishing lure especially suited for Pink Jade Gar. | 45,000 |
| Silver Bangle | Accessory: Max HP +300 | 34,000 |
| Turbocharger | Auto Part that increases Regalia's top speed to 70mph. | 15,000 |
| Behemoth Tenderloin | Cooking ingredient for making Smoked Behemoth and King's Stew. | 15,000 |
| Coeurl Whiskers | Treasure used for crafting Elemancy spells, adding Killcast effect, and for A Better Drain Lance II quest. | 7,500 |
| Great Garula Tusk | Treasure used for crafting Elemancy spells, adding Tricast effect. | 2,500 |
The theme for Totomostro is "Starlit Waltz". During battles, the song that plays is the battle theme "The Fight Is On!"
Totomostro is reminiscent of the Dragon's Neck Coliseum from Final Fantasy VI. The developers were considering adding more content at Totomostro post-launch,[1] but this never came to pass.
Community content is available under
CC-BY-SA
unless otherwise noted.