Toshio Murouchi (室内俊夫, Toshio Murouchi?), known also by the moniker Foxclon, is a manager and producer in Square Enix. He is most well known his involvement as Global Community Producer on Final Fantasy XIV and producer on the Final Fantasy XIV Fan Festival events.
He, alongside the game's Producer and Director Naoki Yoshida, hosts the regular Letter from the Producer broadcasts, featuring upcoming information and products related to Final Fantasy XIV.
Works in the series
[
]
In-game appearances
[
]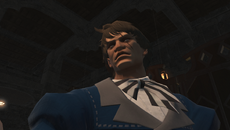 Greetings, I'm Toshio Murouchi from the Community Team. When people ask, that's how I explain my position, but I also do a lot of work for the operations and marketing teams.

Toshio Murouchi
Toshio Muroushi appeared as an NPC during the 2015 The Rising event, in the Developer's Office known as the Eighteenth Floor. When spoken to by the Adventurer, he would express his amazement that they were already celebrating two years since the launch of A Realm Reborn and noted that they had travelled all over the world for various game related events, exclaiming that in the previous twelve months he'd flown 154,750 kilometers, though his amazement at that wouldn't stop him from flying in the next twelve months for the fans of the game. Toshi then said that he needed to start planning for the next Fan Festival.
References
[
]