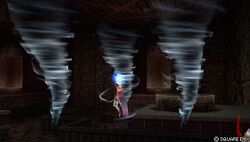 Magick that conjures up a rampaging tornado.
Tornado (トルネド, Torunedo?), also known as Weak, Wind, W Wind and Cyclone, is a recurring spell in the Final Fantasy series. It was initially introduced into the series as late-game spell that dealt percentile damage to lower the target's health to critical levels. As the series has progressed, Tornado has become a spell that often deals strong wind-elemental damage, serving as the final form of Aero magic.
Appearances
[
]
Tornado (Wind on the NES), is a level 8 White Magic spell that reduces the target's HP to single digits. It is bought in Eureka for 60,000 gil and can be used by the enemies Unei's Clone and Unei. It has a 40% accuracy and can target one or all enemies.
Creates a tornado that causes heavy damage.

Description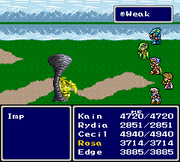 Tornado (Weak on the SNES and Wind on the PS), is a Black Magic spell that reduces the target's HP to single digits for 25 MP. Palom learns this spell at level 48, and Rydia learns it at level 51 in the 2D releases and at level 58 in 3D releases. It has a casting time of 2 and an accuracy of 75 in the 2D releases and 70 in 3D releases.
Tornado can also be cast by Dark Elf and Dark Sage, while Belphegor can cast it only in the 3D version.
In the Easy Type version, the casting time was reduced to 1.
In Final Fantasy IV Advance and Final Fantasy IV: The Complete Collection versions, Abel's Lance can randomly cast Tornado on any enemy, including bosses.
Tornado is a Black Magic spell. It is learned by impostor Rydia (level 51) and Palom (level 48). It reduces a single target's HP to critical level at the cost of 25 MP.
Tornado lowers the target's HP to HP Critical and costs 25 MP to cast. It is learned by Palom (level 45), and Rydia (level 58), and Fusoya (default). Tornado is also used by Strato Avis, Gargoyle, Dark Elf, Ultima Weapon, and the Mysterious Girl.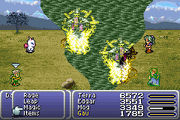 Tornado (W Wind on the SNES), is an Attack spell learned from the Esper Midgardsormr at a x1 rate. It costs 75 MP and it reduces everyone's HP (including allies') to 6.25% of their current HP.
Tornado can be cast by Level 60 Magic, Level 90 Magic, Master Tonberry, Rest, Ultima Weapon, Storm Dragon in the Dragon's Den, Kaiser Dragon, and Omega Weapon.
Tornado is found in the Contain Materia once it reaches level three, and has a spell power equal to 6.5625x the base magic damage. It deals Wind-elemental damage and can cause Confusion at the cost of 90 MP. The chance of inflicting the target with Confusion is 32%. It is the only player-available Wind-elemental spell.
Tornado is the higher-level version of Aero and inflicts Wind-elemental damage on all opponents. It can be drawn and cast at enemies or junctioned to stats. Junctioning can also allow it to deal or resist Wind-elemental damage. Casting Tornado in battle increases compatibility with Pandemona by 1, Quezacotl by 0.6, Eden by 0.4 and with Bahamut by 0.2, but lowers compatibility with Brothers by 0.8.
Tornado is a Wind-based Ancient Magic spell available to Black Mages only. An upgraded version, Tornado II, may be gained by players at level 75 with the use of Merit Points.
Tornado is the name of Chaos's ultimate attack. A Wind-elemental attack, its damage is equal to 90% of the target's max HP, capped at 9,999 in the original version.
In the Japanese version, Chaos's ultimate attack is named Hurricane, and Tornado is the name for Chaos's unique weaker Wind attack to single target.
Deals wind-based magic damage to all enemies. The less HP Lightning has, the more powerful this attack becomes.

Description
Tornado is a Magic ability. It deals wind damage to all enemies and becomes more powerful the less HP Lightning has. At level 1 it has an ATB Cost of 100, Attack of x10.00 , and a Stagger Power of A.
Tornado Lv. 1 can be found in a treasure sphere at the Altar of Birth, one of the four Trials in God's Sanctum. There is a rare chance to obtain the ability with an increased Attack value of x11.00. The game's internal random number generator affecting this probability can be reset by reloading a game that was saved prior to opening the treasure sphere. Tornado is a rare drop included in Noel's loot table (Hard-Mode). Tornado Lv. 3 is a locked-ability on the Astral Lord garb.
Tornado appeared as an ability in the original version and dealt massive wind-elemental damage to the target and nearby enemies. At the initial release, Tornado was a Conjurer spell available for use at Rank 44 and it cost 4 action points to set. After the release of patch 1.20, Tornado became unusable by any class.
Tornado appears in relaunch as an enemy ability available to a number of higher level enemies, such as Elite Marks as well as Unei Clones in Syrcus Tower. The ability deals heavy damage (up to 16,000) split evenly to all targets caught in range. The targeted player has a blue icon over their head before it is cast, allowing others to cluster around and dilute the damage to less lethal amounts. Other enemies such as Steppe Dholes use a much weaker version that just inflicts wind damage in an area of effect.
Magic creates a turbulent tornado.

Description
Gusting winds, hear what I say! Tornado!

Upon casting
Tornado is an ability used by Hashmal, which inflicts heavy Wind-elemental damage in a large area. It has a speed of 15, range of 4, and effect of 4, and costs 70 MP to use. Due to its slow charge speed, the player can take advantage by blitzing Hashmal.
Cyclone is the ability of the Raptor, learned for 300 AP from El-Cid. It deals Wind-elemental damage in an area around the selected area with a range of 4, at the cost of 16 MP.
Tornado conjures a powerful tornado that persists and hits a single target over 11 times. It can be obtained by completing A Fog-Laden Foray on Agito difficulty and requires all magic stats to be at 70.
Weak is a White Magic spell deals Tornado-elemental damage. It cost 28 MP to use, and it can be bought for 8500 GP in Knaya (Pureland).
Tornado is a Level 4 Black Magic spell. It is obtainable from any shop selling Level 4 Black Magic for 3000 coins. It reduces an opponent to single digit HP. It costs 50 MP to use and will not work in boss battles.
Players can use Tornado to sequence break and obtain the Protect Ring and Sleep Blade early in the cave in Deist.
Tornado I-III are abilities exclusive to Jornee, serving as the final tier of her single hitting Wind-type spells. The abilities can only be learned from the Wind Witch eidolon. All versions of Tornado deal heavy wind-elemental magic damage to all enemies and cost 70 MP to perform.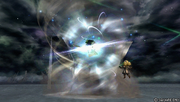 Tornado is one of Terra's HP attacks. She summons three tornadoes to circle her, striking opponents multiple times, before the three tornadoes converge into one and inflict HP damage. Terra is able to use it in the air initially and learns to cast it on the ground at level 14. Tornado costs 40 CP to equip and 180 AP to master.
Tornado is also the most powerful form of Shantotto's Spirit Magic: Air, used when she has over 6000 Bravery. It summons a large tornado that draws in opponents.
Shantotto casts Tornado with Spirit Magic: Air with 4000+ Bravery. Terra's Tornado costs 30 CP to equip and 130 AP to master.
Tornado is a reactive ability that costs 20 CP to equip. It is activated just once in Battle Music Sequences (BMS) when the player makes a chain of 20 hits. It deals magic damage and has extra strength. It is learned by Vivi (level 90) and Ace (level 95).
Tornado is the ability that is used by Shantotto during battle.
Tornado is a 5☆ ability and deals four heavy wind-elemental magic attacks to a single target. Due to Aero spells being magicite-exclusive abilities, Tornado is the first wind-elemental Black Magic available to players. It can initially be used two times and it can be honed to Rank 5. Tornado can be created by using Major Black Orb x10, Major Non-Elemental Orb x6, Major Wind Orb x6, and 20000 gil.
Chain Tornado is a stronger variant that deals five wind-elemental attacks to a single target. It is a 6☆ ability and requires the player to obtain the Chain Tornado Record crystal from the Royal Crucible exchange shop for 180 record rubies. It can initially be used two times and it can be honed to Rank 5. Chain Tornado can be created by using Black Crystal x10, Non-Elemental Crystal x6, Wind Crystal x6, and 200000 gil.
Both Tornado and Chain Tornado work in conjunction with EX Mode follow-up commands triggered by wind-elemental attacks, such as the Onion Knight's Onion Magic.
Tornado (VIII) also appears as Ultimecia's default Soul Break dealing moderate wind-elemental damage to all targets. The Soul Break costs 1 bar to perform.
Tornado also appears as a family of enemy abilities available to certain bosses, with certain versions being based on the respective titles the bosses appear in. The effects and potency depend on the difficulty rank of the boss encounter.
Create a vortex in front of you, damaging foes and potentially leaving them near death.

Description
Non-Final Fantasy appearances

[

]
Other Square Enix titles
[
]
Tornado (トルネド, Torunedo?) has appeared in other Square Enix titles as an ability, referencing the Final Fantasy version of the spell.
Tornado, known as Weak in English, first appeared outside of the Final Fantasy series in SaGa 3 (known as the Final Fantasy Legend III in the west) as a late-game White Magic spell. Like the earlier Final Fantasy titles, Weak lowers an enemy's HP to critical levels when used. The spell was removed from the game's Japanese-exclusive 3D remake.
Tornado also appears as a recurring magic attack in the Kingdom Hearts series, often being an ability exclusive to Sora and Ventus. It originally appeared in both Chain of Memories and Re:Chain of Memories as a sleight combination attack, while Birth by Sleep and Dream Drop Distance feature it as a late-game magic command. It creates a large whirlwind that draws in enemies to deal damage over several seconds, and in the latter two, can be moved with the analog stick.
Tornado appears as the strongest wind-elemental Red Magic in Bravely Default II. Referencing Final Fantasy XI, Tornado serves as the final form of the game's Aero spells, dealing massive wind-elemental damage to a target. The series features another recurring Tornado ability in titles associated with the first Bravely Default, but this attack is known as (トルネード, Torunēdo?), using the common five character katakana spelling of the English word, while the spell in Bravely Default II uses the recurring four character name of the Final Fantasy spell.
Non-Square Enix titles
[
]
Tornado has also made cameo appearances or has been referenced in some titles not associated with Square Enix. Shantotto uses the Final Fantasy XI version of Tornado during her boss and raid encounters in Granblue Fantasy. The ability deals multiple wind attacks to all party members.

Behind the scenes
[
]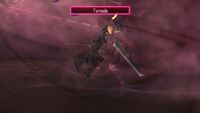 The spell known as Tornado uses the series's tradition of four character for spell names, being (トルネド, Torunedo?). Despite having similar names in both English and Japanese, the abilities known as Tornado in Crisis Core -Final Fantasy VII- and the Final Fantasy VII Remake are considered seperate abilities from the recurring spell, using five character names instead in Japanese. The ability used by the G Enforcers is known as (トーネイド, Tōneido?); while the enemy ability used by the Lesser Drake in the Final Fantasy VII Remake is known as (トルネード, Torunēdo?). The latter spelling was also used for the Tornado abilities in Vagrant Story and the defunct mobile title, Guardian Cross.
In addition, several abilities known as Tornado in English are in actuality different abilities in the original Japanese. Notable examples include the Japanese Twister Feral Link in Final Fantasy XIII-2, and the Cyclone enemy abilities of the Final Fantasy Legend titles. Depending on the title, the reasons for these changes in English releases are likely due to either space limitations, interpretations of the original Japanese word, or creative choices from the game localization teams.

Gallery
[
]
Etymology
[
]
[view · edit · purge]A tornado is a violently rotating column of air that is in contact with both the surface of the earth and a cumulonimbus cloud or, in rare cases, the base of a cumulus cloud.