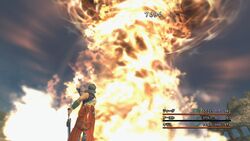 Tornado (陣風, Jinpū?, lit. Gale) is a recurring ability in the series. It is an ability most commonly associated with Auron as it is his ultimate Limit Break.
Appearances
Edit
Tornado is the final Overdrive for Auron, obtained by finding and watching all Jecht Spheres. It is inputted by putting in






, and if input correctly, will have Auron toss his jug of alcohol into the tornado for more damage (two hits in the International and later versions). It is a Rank 7 ability that deals heavy non-elemental damage to all enemies.
Tornado is a unique Soul Break for Auron. It is obtained via Warblade (X). This burst soul break deals six physical fire and non-elemental attacks to all enemies, temporarily infuses Auron with the power of fire, and grants him Haste and Burst Mode. Mastering the soul break gives Auron a permanent +10 to his Attack stat.
His two abilities in Burst Mode are:
Incandescence: Deal four physical fire and non-elemental attacks to one target.
Crimson Lotus: Deal two physical fire and non-elemental attacks to one target, temporarily lower the user's Defense a moderate amount, and raise their Attack a moderate amount.
Non-Final Fantasy guest appearancesEdit
In Kingdom Hearts II, Spiral appears as part of Auron's Limit attack. Sora and Auron spin their weapons rapidly to create a large tornado that draws enemies in before dealing heavy damage.
Community content is available under
CC-BY-SA
unless otherwise noted.