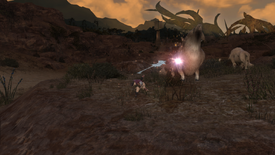 Hurl your axe straight ahead for a ranged attack.
Tomahawk (トマホーク, Tomahōku?) is an ability in the Final Fantasy series.
Appearances
[
]
Tomahawk is available to Warriors at level 75 and higher who purchase it with 3 Merit Points in the merit menu. It expends a throwing tomahawk to inflict a special defense down effect on an enemy. Special Defense Down lowers the target's physical and magical damage resistance, should it have any (Such as Physical Damage -50%). It consumes one Throwing Tomahawk per use. It can be recast every 3 minutes and has a duration: 30 seconds (+15 seconds for every additional merit).
Tomahawk generates a considerable amount of enmity on the monster it is used on. If the monster has no damage resistance, Tomahawk will have no effect on it. Tomahawk has no effect on beneficial status effects that increase defense such as Protect or Cocoon, Stoneskin.
Tomahawk appears as a Marauder weaponskill available after completing the "Brutal Strength" class quest at Level 15. The ability deals damage to a single enemy with a potency of 130, costs 120 TP to use, and can be cast on enemies 15 yalms away. Due to it being ranged and being able to gain enemy enmity, the ability is often used as a starting move to pull enemies. Tomahawk has an instant cast time and shares the 2.5-second recast time with other weaponskills.
In PvP, Tomahawk has a potency of 150 and inflicts 50% Heavy to the target for 3 seconds.
Gallery
[
]
Etymology
[
]
[view · edit · purge]A tomahawk is a type of axe from North America, traditionally resembling a hatchet with a straight shaft.