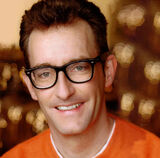 Thomas James "Tom" Kenny (born July 13, 1962) is an American actor and voice actor.
Roles
[
]
Related games
[
]
Background
[
]
During the rise of the Nickelodeon Nicktoons Renaissance in the early 1990s, he and fellow costar and friend Carlos Alazraqui made their breakthrough as voice actors upon being chosen to star as main characters Heffer Wolfe and Rocko Rama in the more grounded slice of life comedy animated show Rocko's Modern Life. Due to his uniquely prolific lighthearted and joyful voice and range, Tom Kenny maintained a strong career in western animation, from not just future Nicktoons but to Cartoon Network shows and as an announcer.
He is most well known for voicing SpongeBob SquarePants in SquareBob SquarePants, Ice King in Adventure Time, Spyro in the Spyro series, Raimundo Perdrosa in Xiaolin Showdown, Mayor of Townsville in Powerpuff Girls, Plastic Man and Penguin in various DC Comics Media, Starscream in Transformers: Animated, Eduardo in Foster's Home for Imaginary Friends, Commander Peepers in Wonder Over Yonder, Mumbo Jumbo in Teen Titans, Algonquin C. Lumpus in Camp Lazlo!, Dog in CatDog, Scaramouch in Samurai Jack and Doctor Octopus in various Marvel Comics Media. He also appeared in the Square Pictures produced Final Flight of the Osiris, part of The Animatrix short film colleciton, alongside Nickelodeon alumni Rick Gomez.
External links
[
]