The sole survivor of Norende, Tiz Arrior is haunted by his failure to save his brother. He won't rest until he has restored his village.

Bravely Default online description
Tiz Arrior is a playable character in Bravely Default and Bravely Second: End Layer. He is the sole survivor of the Great Chasm that destroys his hometown of Norende, during which he is unable to save his younger brother Til. He is deemed as the "Miracle Man" to have survived, especially after encountering Agnès Oblige soon after.
The Miracle
A young man, and sole survivor of the Great Chasm. After waking, he had a fateful encounter with the wind vestal, Agnès.
A nineteen-year-old boy from Norende. A simple and honest soul, he has a gentle and amiable demeanor that makes him well-liked. He acts as a mediator between friends, and often ends up with a lot on his plate (for which I am partly responsible).
Likes: Hot home cooking, seafood
Dislikes: Gaudy baubles, crowds
Tiz has unruly silver-brown hair and brown eyes. He normally wears a white collared shirt with crests on the shoulders, brown leather gloves, a belt with potions and satchels attached to it, tight-fitting brown trousers and knee-high boots. When using the asterisks, Tiz's appearance changes according to which job he is using.
In Bravely Second, Tiz's hairstyle becomes longer covering his left eye and more unruly. He now wears white overalls with black belts around his arms and legs. He also wears red gloves and brown boots with red tips.
Tiz has several alternate outfits released as part of downloadable content in the Japanese release, which can be obtained in-game in the Western release. Dimensional Officer is unavailable in the Western release.
The Onion Shirt consists of a white and red shirt with a long white cape and white gloves. He wears brown pants with a brown belt and brown shoes. He wears a gold helm with red accents and four leaf-like protrusions on top. The Plain Tunic is simply his Freelancer outfit. The Dimensional Officer consists of a long white robe with two "tails" in the back. He wears black pants, boots and gloves.
In Bravely Second, alternate outfits return and can be bought at various locations. In his Sagittarius Garb, Tiz wears a black robe with red lining and a white sash belt. He wears a blue and white scarf over the robe. He wears black boots and white pants. His Washcloth outfit is simply a white towel wrapped around his waist and he is barefoot. The Freelancer Garb is simply his default outfit. His default outfit from Bravely Default returns under the name Shepard's Garb.
Tiz shares a few outfits with Ringabel from Bravely Default. The first is the Wakoku Warrior outfit, called Eastern War Garb, where he wears a long white scarf around his neck and a white cloth wrapped around his waist over brown shorts (a white loincloth in the Japanese version). He has brown gladiator sandals and brown bands wrapped around each wrist. The second is the Melodist's Shirt, called Minstrel's Garb, which consists of a long gold high-collared jacket with red accents. He wears a white dress shirt and a white cravat with a blue gem in the center. He wears tan pants and red boots.
Tiz is a simple and honest country 'bumpkin' with a gentle and amiable demeanor that makes him well-liked. He acts as a mediator between friends, often being the one responsible for keeping the party together. He is strong-willed and determined, relying on his common sense and morals to guide him. The death of his brother, Til, as well as the loss of his home plagues him, resulting in countless restless nights due to nightmares - this isn't explored in too much depth, however, it is implied that Tiz discusses this with Ringabel and confines in him about his worries. Seeking normality and wanting to return to the peaceful life that he once had, he wishes to rebuild Norende. He struggles to express his romantic feelings numerous times throughout both Bravely Default and Bravely Second, although it is evident that Tiz's journey in Bravely Default helped him mature and helped him learn to cope with the loss of his loved ones. Tiz is a very modest and humble person, and shows discomfort when being praised or put on a pedestal, particularly by Yew. Despite this, he frequently praises and idolizes others and fails to recognize their flaws. He can be regarded as very "innocent" and "naive" in this respect.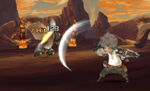 Depending on the currently assigned asterisk, Tiz's appearance, stats, and abilities change. However, his overall growth remains rather balanced among the group making him ideal at switching to any class need be. He has the best overall HP however, which makes him ideal for the HP reliant Dark Knight class, but his MP is the lowest of the group. This makes Tiz ideal for any back-up role like a healer, but he truly shines in classes like a Spell Fencer and a Monk due to his good balance of stats.

Jobs (Bravely Default)
Jobs (Bravely Second)
Tiz is voiced by Bryce Papenbrook in English. He shares his voice actor with Zidane Tribal in Dissidia Final Fantasy series, Machina Kunagiri in Final Fantasy Type-0 and Mont Leonis from Final Fantasy Brave Exvius: War Of The Visions.
Tiz is voiced by Mitsuki Saiga in the Japanese version.
In Bravely Default, Tiz's theme is "You Are My Hope" and played during his "Special Move" sequence. It also received an image song version sung by Mao of Sound Horizon as part of the Luxendarc's Big Diary album.
In Bravely Second, "Beneath the Hollow Moon" reprises itself as Tiz and Agnés's theme and plays during events involving them. During his "Special Move" sequences, "I'll Finish Them Off!" plays.
二度と会えなくても
どこかに君はいる
僕達は忘れないだろう
君の悲しみの
その半分は僕の悲しみ
二人でわけあえばほら 
痛みなど半分さ
ねぇ だから泣かないで
僕の慶の
この半分は君の喜び
二人でわけあえばほら
幸せも二倍さ
ねぇ だから笑って
君は僕の希望さ、 どんな時でも
君を守るために、 僕はたたかうよ!
君が失った
その大切な人の思いで
溢れて 悲しい今をかごが侵してもなお
君を責めないで
僕が失った
あの大切な人の面影
重ねて踏み外しても手を伸ばしてくれた事
君を誇って
君は僕の希望さ、 闇のそこでも
君の使命の意味を僕は信じるよ!
大地に大きな穴があいた 僕の心にも消えない穴があいた
闇は世界を飲み込んだけど 君という光までは飲み込めなかった
君の歩んだ道が みんなの光になる 僕はそう確信しているんだ
だから信じて!
僕は君の希望さ、 頼りなくても
君が信じてくれるなら
僕は負けないと
君に誓うよ!
Ni do to aenakutemo
Dokoka ni kimi wa iru
Bokutachi wa wasurenai darō
Kimi no kanashimi no
Sono hanbun wa boku no kanashimi
Futari de wakeaeba hora
Itami nado hanbun sa
Nee, dakara nakanai de
Boku no yorokobi no
Kono hanbun wa kimi no yorokobi
Futari de wakeaeba hora
Shiawase mo nibai sa
Nee, dakara waratte
Kimi wa boku no kibō sa, donna toki de mo
Kimi wo mamoru tame ni, boku wa tatakau yo!
Kimi ga ushinatta
Sono taisetsu na hito no omoi de
Afurete, kanashii ima wo kago ga okashitemo nao
Kimi wo semenai de
Boku ga ushinatta
Ano taisetsu na hito no omokage
Kasanete, fumihazushitemo te wo nobashite kureta koto
Kimi wo hokotte
Kimi wa boku no kibō sa, yami no soko de mo
Kimi no shimei no imi wo boku wa shinjiru yo!
Daichi ni ooki na ana ga aita, boku no kokoro ni mo kienai ana ga aita
Yami wa sekai wo nomikonda kedo, kimi to iu hikari made wa nomikomenakatta
Kimi no ayunda michi ga, minna no hikari ni naru, boku wa sou kakushin shiteirunda
Dakara shinjite!
Boku wa kimi no kibō sa, tayorinakutemo
Kimi ga shinjite kureru nara
Boku wa makenai to
Kimi ni chikau yo!
Even if we never meet again
You're out somewhere.
We hopefully won't forget
Your sadness
Half of it is my sadness
If the two of us share it, the pain will be halved
Hey... so don't cry
My joy
Half of it is your joy
If the two of us share it, our happiness will be doubled
Hey, so smile!
You are my hope
No matter the time
I will fight so I can protect you!
You're mourning a loss
The memories of that important person
Are overflowing, and your current sadness is affecting you even further
Don't blame yourself
I am mourning a loss
The shadow of that important person
Even if I keep losing my way, you reach out your hand to me in the dark
Be proud!
You are my hope, and even in the darkness
I believe in the significance of your mission
A large hole opened in the ground, an unwavering hole also appeared in my heart
Darkness is engulfing the world, however... it could not engulf up to the light that is you
The path that you walk on becomes everyone's light, I'm convinced of it
So believe!
I am your hope, even if I'm unreliable
If you believe in me
I won't lose
I vow to you!
Tiz appears as an obtainable unit.
Tiz appears as an obtainable unit.
Non-Final Fantasy guest appearances

[

edit

|

edit source

]
Tiz, along with Agnès, appears.[2] Tiz comes with Freelancer, Black Mage, and Thief jobs, each having an active and party ability.
The Freelancer has Elixir as an active skill and Light Resist as a party skill. The Black Mage has Dark as an active skill and Rod Knowledge as a party skill. The Thief has Heart Stealer as an active ability and Swiftness a party skill.
Tiz would appear as a support character.
Tiz's costumes appeared in a collaboration event.[3]
Tiz appears as an obtainable character.

Tiz makes an appearance as a collaboration character. His outfit is also available for players to wear.
Tiz appears as an obtainable character.

Tiz appears on sticker sets for the LINE communications app wearing his Freelancer outfit from Bravely Default and his Freelancer outfit from Bravely Second: End Layer. The sticker sets he appears in are titled "Bravely Stickers - Volume 1"[4] and "Bravely Stickers - Volume 2".[5]
Miscellaneous
[view · edit · purge]Tíz is Hungarian for "ten."
Tiz's last name "Arrior" stems from the word "warrior" without its first letter. Similarly, the Japanese spelling of 「オーリア」? omits the first symbol of "warrior" in katakana: 「ウォーリア」?.
Tiz's Onion Shirt alternate outfit in Bravely Default is similar to the Onion Knight.
Yew's Diary in Bravely Second: End Layer incorrectly states that Tiz is the same age as the Jackal. This is due to Tiz's age being changed in the western release of Bravely Default, which was apparently ignored in the sequel.
Tiz makes a reference to Star Wars during Bravely Second: after encountering some guards Tiz says "These aren't the intruders you're looking for, these aren't the intruders you're looking for."
When writing in Yew's Diary, Tiz writes in green and his icon is a belt.
Community content is available under
CC-BY-SA
unless otherwise noted.