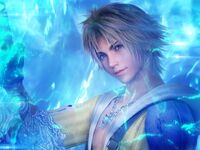 "Tidus's Theme"
"Tidus's Theme" (ティーダのテーマ, Tida no Tēma?) is the theme of Tidus, the protagonist of Final Fantasy X. It was composed by Nobuo Uematsu.
Two notable times the theme plays are when Tidus is heading for the blitzball stadium in Dream Zanarkand, and when he is remembering Jecht showing him the Jecht Shot while the party is on the ferry to Luca. It plays for the final time after the party wins the final battle and the villagers of Besaid Island are rejoicing.
The theme is rearranged by Masashi Hamauzu in the HD Remaster.
A piano arrangement of "Tidus's Theme" is included as the second track out of sixteen tracks in the album.
A vocal version of "Tidus's Theme" titled "Go Dream" is sung by Tidus's Japanese voice actor, Masakazu Morita.
(Go dream) Taiyou no (Go way) masshita e to
Ima yume no chizu dakishimete tabidatteku
(Go dream) Mukau basho (Go way) arashi de mo
Mou osorenai karadajuu kizutsuite mo
Bokura ga eranda ashita e susumou
Mune no jounetsu akaku moyashite
(Go dream) Mamoritai (Go way) hito no tame
Ima unmei no shiren sae furikitte
Bokura wa kokoro ni tsubasa o hirogete
Donna sora de mo tobikoerareru
Bokura wa kono umi daichi o tsukinuke
Mezasu sekai e tadoritsuku no sa
(Go dream) To right below (Go way) the sun
We set off now, clutching a map of dreams
(Go dream) Even if there are storms (Go way) where we're headed
I won't be afraid any more, even if I were wounded all over
Let's continue on to the tomorrow we've chosen
And make the passion in our hearts burn red
(Go dream) For the one (Go way) I want to protect
I shake off even the trials of fate
We spread out wings in our hearts
We can fly over any kind of sky
We pierce through this ocean, this earth
And we'll finally arrive in the world we're aiming for
Community content is available under
CC-BY-SA
unless otherwise noted.