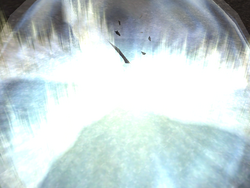 Thunderstorm (サンダーストーム, Sandā Sutōmu?), also known as Thunder Storm and Thunder, is a recurring attack in the Final Fantasy series. It is usually an attack usable by various summons and often does Lightning-elemental damage, or Ice-elemental damage, but sometimes does Wind-elemental damage as well.
Appearances
[
]
Thunderstorm is an ability used by Ramuh. It does Lightning-elemental damage to all enemies.
Thunderstorm is a Band ability usable by combining Rydia's Black Magic command with Palom's. It does dual Ice and Lightning-elemental damage to all enemies.
Thunderstorm (Thunder in Anthology), is the attack of the summon Syldra. It does wind-elemental damage to all enemies.
The final boss uses Thunderstorm after perform Lightning Infusion, summoning several strikes of thunder across the arena.
Thunder Storm is the attack of Quezacotl. It does Lightning-elemental damage to all enemies. Quezacotl's summon time is 13.3s, which, according to the Final Fantasy VIII Ultimania, allows the player to boost its damage to around 180% of normal damage using a regular PlayStation controller.
Its damage is calculated as follows:[1]
Elemental Defense starts at 800 (0%), 900 nullifies damage and 1000 absorbs it. If an enemy is shown to be weak against an element, its Elemental Defense is below 800. If damage becomes negative (due to high Elemental Defense), the target is healed by that amount.
Thunderstorm is a Merit Blood Pact: Rage for Ramuh, available to Summoners levels 75 and above who have purchased the ability using Merit Points. It deals massive Lightning damage to a single target, and its damage is increased by Ramuh's current TP. Placing additional merits in Thunderstorm grants a 40 TP bonus when to its power when used.

Thunderstorm is Feral Link for Wyvern. It deals Lightning-elemental damage to enemies within radius of the thunderstorm.[2]
Thunderstorm is used by the Summonstone Syldra. It cancels the opponent's ongoing summon effects.
Thunderstorm is a Legend ability used by Faris.
Thunderstorm is an enemy ability used by Syldra★.

Non-Final Fantasy appearances

[

]
In Birth by Sleep, Thunderstorm appears as a Shotlock. It fires several volleys of electric blasts at enemies.
Gallery
[
]
Etymology
[
]
[view · edit · purge]A thunderstorm is a form of turbulent weather characterized by the presence of lightning and its acoustic effect on the Earth's atmosphere known as thunder. Thunderstorms occur in association with a type of cloud known as a cumulonimbus.
[view · edit · purge]Thunder is the sound caused by lightning. Depending on the distance and nature of the lightning, thunder can range from a sharp, loud crack to a long, low rumble (brontide).
References
[
]