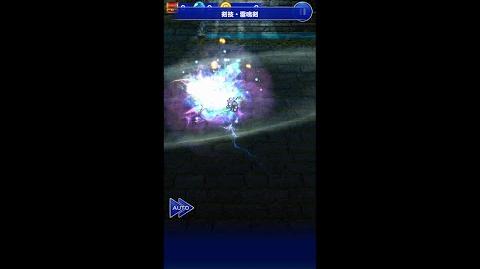 Thunder Blade (サンダー剣, Sandā Ken?), also known as Thunder Slash (雷鳴剣, Raimeiken?), Thunder Sword, Stormblade, Lightning Blade, Bolt Sword, or simply Thunder or Bolt, is a recurring ability in Final Fantasy. It is always a Lightning-elemental attack to one target, and is mainly attributed with the ability Spellblade.
Appearances
Edit
Thunder is a level 1 Spellblade that can be used by Mystic Knights. It can be used for 2 MP, and is mastered for 20 AP.
Thunder Blade is a Command Materia and ability. Zack lifts his sword then cleaves it from left to right, dealing small physical damage and the Thunder spell to a enemy. Thunder Blade does moderate damage against Water-based enemies. It is a Level 1 Command Materia. It can be stolen from Crescent Unit Aqua.
Thunder Slash is a Sword Art used by Steiner that is supposed to deal Lightning-elemental damage to a target for 24 MP, but due to a glitch it misses almost every time. Thunder Slash can be learned for 30 AP from the Defender and Ragnarok. Thunder Slash will never work on bosses. The ability is also part of Beatrix's Seiken command.
The damage formula is:
$ Damage = [19 * Target's Max HP / 100] $
Additionally, Thunder Sword can be used by Steiner when he is paired with Vivi in a party.
Thunder Blade is a Lightning-elemental attack to one target. It is learned by the Warrior, requiring 20 AP to learn and 4 MP to cast.
Thunder Slash is an attack used by
Agrias
in
The Orbonne Monastery
. It is a heavy-hitting cleave that targets whoever is highest on the boss's enmity list (generally the tank).
Bolt Sword is a Gladiator ability deals lightning-elemental damage to one target. It is learned from the Air Blade for 200 AP, and costs 10 AP. Bolt Sword has a Weapon Attack Power of 54 and is also susceptible to Absorb MP.
Thunder Assault is a Gladiator ability that deals lightning damage to a target. It can be learned for 300 AP from the Air Blade. It costs 4 MP to cast and has a range of 1.
Thunder is a level 1 Sword Magic. It imbues a weapon with a low-power lightning effect for ten turns. This will raise attack power by the amount of the magic effect. It costs 5 MP. It can be bought in Caldisla, Yulyana Woods Needleworks, and Miasma Woods for 200 pg.
Thunder Slash appears as a Fusion Ability for both the Warriors of Light and the Warriors of Darkness. In order to learn the ability, it requires the user to have both the Thunder and Strike abilities equipped during battle. The ability deals lightning-elemental damage to a single enemy and costs 9 MP to use.
In addition, Arcing Slash is an ability of the Magic Blade skillset, available through the Red Mage class. It costs 8 MP to use and deals Lightning-elemental physical damage to one target.
Thunder Slash is the ability that is used by Steiner during battle.
Etymology
Edit
[view · edit · purge]Thunder is the sound caused by lightning. Depending on the distance and nature of the lightning, thunder can range from a sharp, loud crack to a long, low rumble (brontide).
[view · edit · purge]Lightning is a sudden electrostatic discharge during an electrical storm between electrically charged regions of a cloud (called intra-cloud lightning or IC), between that cloud and another cloud (CC lightning), or between a cloud and the ground (CG lightning).