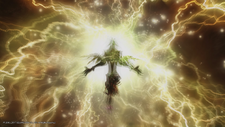 Thundaja (サンダジャ, Sandaja?), also known as Thunder IV, Bolt 4, or Thunder 4, is a recurring level four Lightning-elemental spell.
Appearances
Thundaja is a powerful attack used by Dark Ixion in the International, PAL, and HD Remaster versions. It inflicts massive non-elemental damage, cannot be reflected, and inflicts a large delay.
Template:FFXI Spell Thundaja is Elemental Magic exclusive to Black Mages. Scrolls of Thundaja can be obtained as rewards from some battles in Voidwatch.

Template:See Also Thundaja is a spell exclusive to the Esper Adrammelech during his boss fight. It causes heavy Thunder damage and inflicts the Stop status. Interestingly, in the Japanese version, this spell was named Thunga (サンガー, Sangā?) rather than Thundaja (サンダジャ, Sandaja?) to pay the original Final Fantasy homage in which the third tier of Lightning-elemental spell was named so. This spell is similar to the Ark Blast Quickening concurrence.
Thundaja is a spell exclusive to the Esper Shemhazai. It causes heavy Thunder damage to all enemies in the area of the spell.
Black magick that strikes targets with lightning.

Description
Angry spirits of the world strike now! Bolt4!

Upon casting (PlayStation)
The only job that can learn Thundaja is the Black Mage. It costs 850 Job Points to learn (900 in the The War of the Lions version), requires 48 MP to cast, and has a speed of 10. Thundaja causes a massive amount of Thunder damage in an area with an effect of three horizontal and vertical reach of three. Unlike lesser Thunder spells, it will not damage its caster.
Thundaja has a 30% chance of being learned by a Black Mage who has not learned the spell yet and is damaged but not knocked out by the spell, or absorbed and heals at least 1 HP. Nullifying the damage does not count.
Thundaja can only be cast by piling four Thunder spells.
Thundaja is cast by stacking four Thunder target rings. It conjures a large sphere of electricity to deal major damage in a large area.
Script error Thundaja is a Genome ability that can be learned from Belphegor and Asmodeus. It costs 99 MP.
Script error
Thundaja is a Black Magic ability with a Rarity of ☆☆☆☆. It deals massive lightning magic damage to one target, it can initially be used two times and it can be honed to Rank 5. It can be created by using Greater Black Orb x5, Greater Lightning Orb x8 and 10000 gil.
Gallery
Community content is available under
CC-BY-SA
unless otherwise noted.