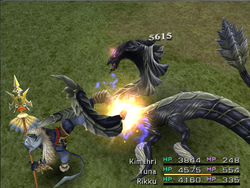 Thrust Kick (回しげり, Mawashi geri?, lit. Roundhouse Kick) is a recurring ability in the series.
Appearances
[
]
Thrust Kick is a Ronso Rage ability usable by Kimahri. When performed, Kimahri sweeps the enemy's legs out from underneath and delivers a powerful kick. The description states that it ejects enemies; however, due to an oversight by the developers, Kimahri's Thrust Kick does not inflict Eject, it only does damage. Kimahri can learn the ability by using Lancet on these selected enemies: YKT-11, YKT-63, and Biran Ronso after he uses it himself.
Thrust Kick is an enemy ability used by YAU-28 and YAU-71, both of which inflicts Eject (status).
Thrust Kick is a command ability innate to Kimahri, and is activated when his Lancet ability is used; the command becomes Lancet & Thrust Kick while the buff provided by Lancet remains in effect.
Gallery
[
]