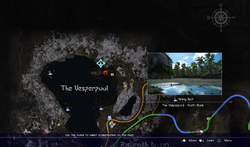 The Vesperpool - North Bank is a hidden fishing spot in Final Fantasy XV. Located in the north of the Vesperpool lake, the player can discover it by swimming to it on a chocobo. It was added in the day one patch. It has a superfish: the Regal Arapaima.
List of fish
Edit
Regal Arapaima is a superfish attracted with the basic yellow chocobo lure. It will appear regardless of weather, but is hard to catch for being very strong and struggling almost all the time when caught. It is advised to use the best fishing line, an upgraded rod and reel, and to have Fishing Level 10. Eating Kupoberry Cheesecake is recommended.
The player should continually tilt the analog stick the way the fish swims, and looking at the fish itself rather than the button prompt can be a better method, although this is not so easily seen if it is raining. The player must be patient and only reel in when the fish is not struggling (the controller doesn't vibrate). Tapping the reel in button can work better than holding it, to save line. There are only short windows for reeling. If the catch proves to be a struggle, the player can continually tap the pause button and adjust the reel/do not reel and direction when the game is paused to save on the line, and nail the correct direction before the prompts even appear on the screen.
Community content is available under
CC-BY-SA
unless otherwise noted.