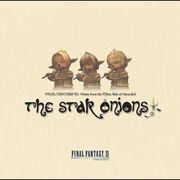 The Star Onions is an instrumental band formed by Naoshi Mizuta in September 2004, dedicated to performing various arrangements from Final Fantasy XI.
History
[
]
With the debut of Final Fantasy XI in 2002, Naoshi Mizuta was tasked to compose the game's music with the help of Kumi Tanioka and Nobuo Uematsu. With the game's expansion packs released each year, Mizuta took on the helm of main composer, and composed each expansion's original soundtrack.
The composers began discussing the possibility of performing live at a fan event, and The Star Onions was formed[1] and in September 2004, The Star Onions made their first debut during the launch of the expansion pack Final Fantasy XI: Chains of Promathia in Japan. On August 24th 2005, the Star Onions released a studio album, "The Star Onions ~ Final Fantasy XI - Music from the Other Side of Vana'diel" and in the same month, performed as a band during Final Fantasy XI 2005 Royal Summer Carnival Barista Championship. Their latest studio album, Sanctuary was released in 2009.
Band members
[
]
The Star Onions have also invited guests, including vocalists, to perform with them.
Discography
[
]
Studio albums
[
]
Appearances
[
]
References
[
]
External links
[
]